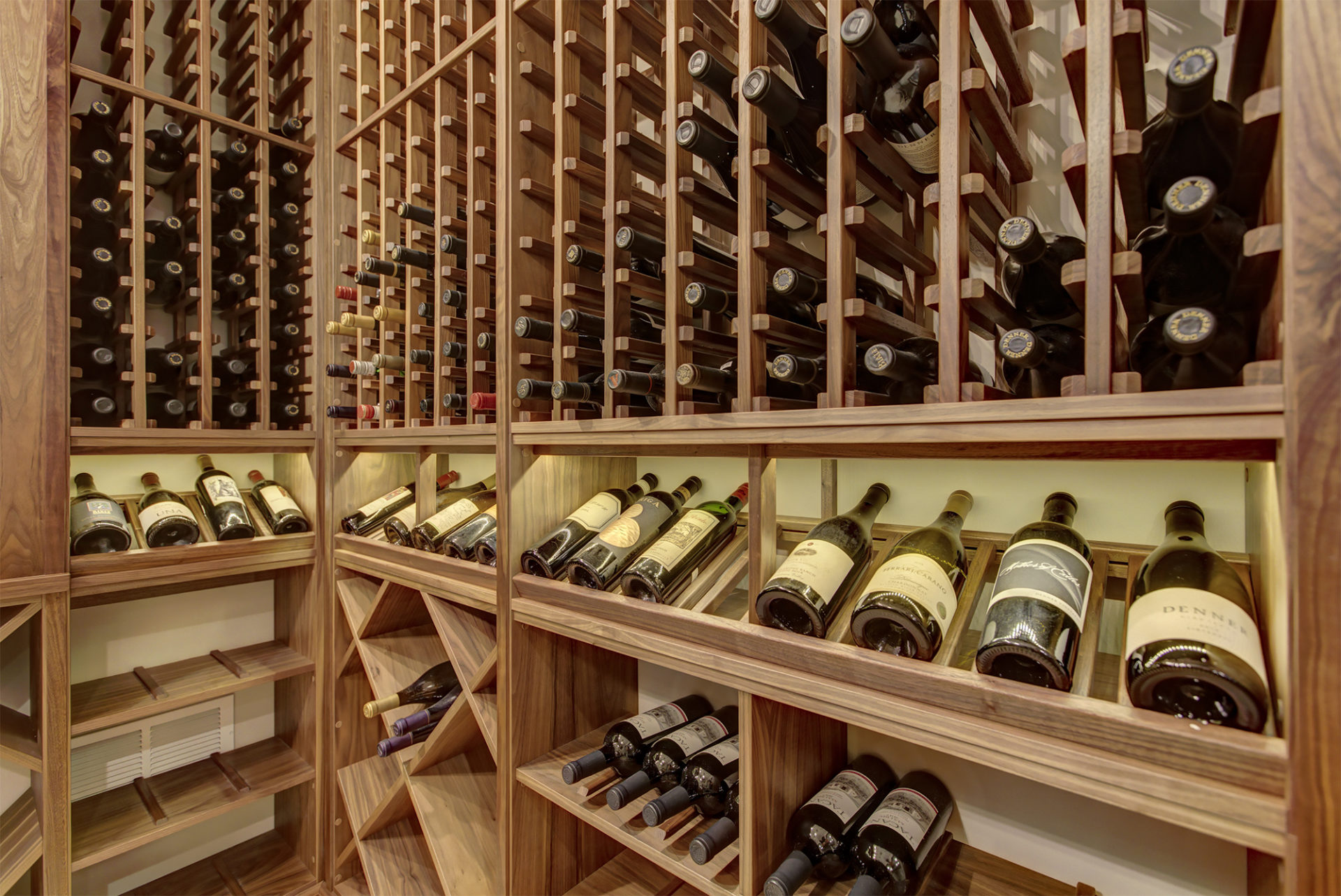 We can design and build a wine storage area in your home that fits your needs.
It doesn't matter whether you accumulated your wine collection by accident or by intention, but it does matter that you protect your investment in wine.
Many better wines take a few years to reach their peak and some take up to 10-20 years. Therefore, it is important to store these wines in an ideal environment until they reach their prime drinking age.
The ideal environment for storage is an area that is a stable 55-60 degrees, 50-70% relative humidity, and with minimal exposure to UV light. In addition, wine bottles shouldn't move as vibration can damage the wine.
Flexibility of Design
Our wine cellar racking offer design options to fit nearly any style of home.  By offering traditional options like the Estate and Reserve series to the more modern options of EleVate, Wine As Art, and the Contemporary series, we can find a style that appeals to you.
Using woods such as Sapele Mahogany, Walnut, and White Oak, we can help you come up with your ideal design.
All of our systems come in a modular fashion, with most of them fully assembled and ready for installation. Since they come constructed this way, they provide the most structurally sound storage system available.
Refrigeration, not Air Conditioning.
There is a difference between refrigeration of a room and providing air conditioning. Wine cellars perform best with refrigeration with control of the humidity of the room. So, a separate refrigeration unit is required to best cool the wine cellar. But depending on your surroundings, it can cause problems if not insulated properly.
Mold is a major cause of damage when a wine cellar is not constructed the correct way. No matter the conditions we can help you select the solution that is best for you.
Our Partners
Luxury wine storage cabinet manufacturer, Kessick Wine Storage Systems, offers a complete line of modular, custom cabinets that are designed for ultimate in stability, beauty and design for your wine collection.
Whether you are looking for an aesthetic wine space, to something more utilitarian, we can design the ideal wine storage solution for you.