Recipe of the Month : Spanish Spice-Crusted Pork Tenderloin Bites (Pinchos Morunos)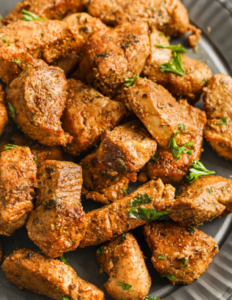 Servings: 4
Start to Finish: 50 Minutes (25 minutes active)
INGREDIENTS
1½ teaspoons ground coriander
1½ teaspoons ground cumin
1½ teaspoons smoked paprika
Kosher salt and ground black pepper
1-pound pork tenderloin, trimmed and cut into 1- to 1½-inch chunks
1 tablespoon lemon juice, plus lemon wedges to serve
1 tablespoon honey
1 large garlic clove, finely grated
2 tablespoons extra-virgin olive oil
1 tablespoon chopped fresh oregano
INSTRUCTIONS
1. In a medium bowl, combine the coriander, cumin, paprika and ¾ teaspoon each salt and pepper.
2. Add the pork and toss to coat, massaging the spices into the meat until no dry rub remains. Let the pork sit at room temperature for at least 30 minutes and up to 1 hour.
3. Meanwhile, in another bowl, combine the lemon juice, honey and garlic. Set aside.
4. In a large skillet over medium high, heat 1 tablespoon of the oil until just smoking.
5. Add the meat in a single layer and cook without moving until deeply browned on one side, about 3 minutes.
6. Using tongs, flip the pork and cook, turning, until cooked through and browned all over, another 2 to 3 minutes.
7. Off heat, pour the lemon juice-garlic mixture over the meat and toss to coat, then transfer to a serving platter.
8. Sprinkle the oregano over the pork and drizzle with the remaining 1 tablespoon of A spice rub and a quick sear add bright, smoky flavor to pork tenderloin.
9. Oil.
10. Serve with lemon wedges.
The Kitchen Casanova Recipes