Recipe of the Month : Air-Fryer Zucchini Chips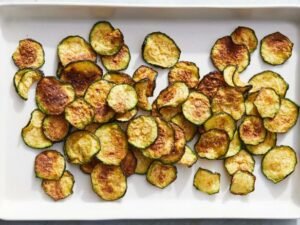 Serves 2 to 4
Time: 45 Minutes (10 minutes cook time)
INGREDIENTS
1 zucchini (8 ounces), sliced into ¼" slices
¾ cup panko bread crumbs
2 tablespoons extra-virgin olive oil
1 ounce Parmesan cheese, grated (½ cup)
1 large egg
1 tablespoon all-purpose flour
½ teaspoon dried oregano
¼ tsp cayenne pepper
Salt and pepper
INSTRUCTIONS
1. Slice the zucchini and place the slices on paper towels to absorb extra moisture while you mix the other ingredients together.
2. Toss panko with oil in bowl until evenly coated. Microwave, stirring frequently, until light golden brown, 1 to 3 minutes. Transfer to shallow dish, let cool slightly, then stir in Parmesan.
3. Whisk egg, flour, oregano, 1/4 teaspoon salt, and 1/8 teaspoon pepper, ¼ teaspoon cayenne pepper together in second shallow dish.
4. Working with several pieces of zucchini at a time, dredge in egg mixture, letting excess drip off, then coat with panko mixture, pressing gently to adhere; transfer to air fryer basket that has been lightly sprayed with vegetable oil spray.
5. Place basket in air fryer and set temperature to 400 degrees. Cook until zucchini is tender and crisp, 10 to 12 minutes, gently shaking basket to loosen pieces halfway through cooking.
A good topping for this is a spicy aioli, or you can simply use Spicy Hellman's Mayonnaise. Enjoy!
The Kitchen Casanova Recipes