Recipe of the Month : Peach Cobbler No-Churn Ice Cream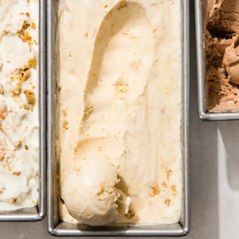 Time: 15 minutes, plus 6 hours freezing
Yield: Serves 8 to 10 (Makes about 1 quart)
INGREDIENTS
2 cups heavy cream, chilled
1 cup sweetened condensed milk
½ cup peach preserves
¼ cup whole milk
¼ cup light corn syrup
1 tablespoon bourbon
¼ tablespoon ground cinnamon
¼ teaspoon table salt
½ cup coarsely chopped shortbread cookies
BEFORE YOU BEGIN
The cream mixture freezes more quickly in a loaf pan than in a taller, narrower container. If you don't have a loaf pan, use an 8-inch square baking pan.
INSTRUCTIONS
1. Process cream in blender until soft peaks form, 20 to 30 seconds.
2. Scrape down sides of blender jar and continue to process until stiff peaks form, about 10 seconds longer.
3. Using rubber spatula, stir in condensed milk, preserves, whole milk, corn syrup, bourbon, cinnamon, and salt. Process until thoroughly combined, about 20 seconds, scraping down sides of blender jar as needed.
4. Pour cream mixture into 8½ by 4½-inch loaf pan.
5. Gently stir in cookies.
6. Press plastic wrap flush against surface of cream mixture.
7. Freeze until firm, at least 6 hours.
8. Serve.
The Kitchen Casanova Recipes