Recipe of the Month : Strawberry Refrigerator Jam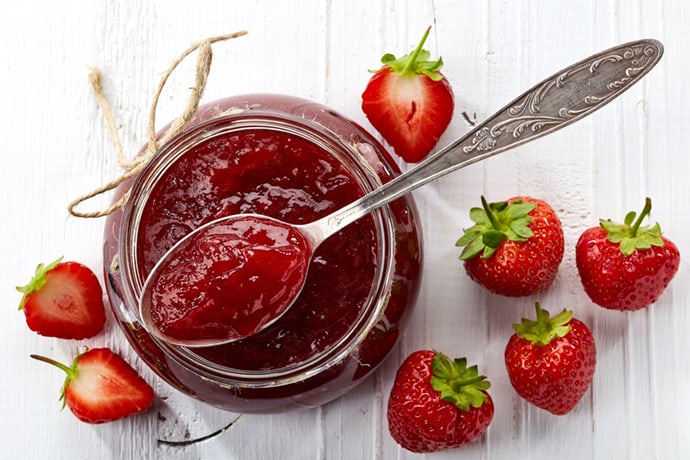 Eddie's Note
This year marked the first time I had made jam in many years.  I have made both Strawberry and Peach, and although I made the type that uses added pectin and is canned for longer storage, in hind sight I would probably use this recipe since it uses so much less sugar.  The recipes on the pectin packages use 7 cups of sugar per batch, and can be ultra sweet.  The prime strawberry season has passed, but you might try this with blackberries or peaches.  Peach is my favorite.  Thanks, and enjoy!
Ingredients
(Makes about 2 cups)

• 1 ½ lbs strawberries, hulled & cut into ½" pieces (3 cups)
• 1 cup sugar
• 3 tablespoons lemon juice
Before You Begin
Crushing the berries jump-starts the release of pectin and decreases the cooking time, ensuring maximum fresh flavor.
Instructions
Place metal spoon in freezer to chill. Combine strawberries, sugar, and lemon juice in large saucepan. Bring to boil over medium-high heat, then reduce heat to medium. Mash fruit with potato masher until fruit is mostly broken down. Simmer vigorously until fruit mixture thickens and spatula leaves trail that does not fill in immediately, 15 to 25 minutes.
To test for proper thickness, remove saucepan from heat. Dip chilled spoon into jam and allow jam to run off spoon; jam should slowly fall off spoon in one thickened clump. If jam is runny, return to medium heat and simmer for 2 to 4 minutes before retesting. Transfer jam to jar and let cool completely. Cover with tight-fitting lid and refrigerate for up to 3 weeks.
The Kitchen Casanova Recipes