Recipe of the Month : Lattice-Top Fresh Peach Pie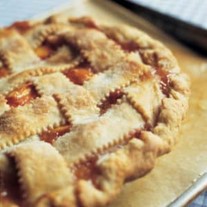 Eddie's Note
I never expected to get a better result than I do from my apple pies, but this peach pie is likely the best pie I have ever made.  Every plate was clean around the table when I served it.  This one is worth the effort folks.
Why This Recipe Works
Nothing against the marshmallow-topped version, but we wanted an elegant, simple sweet potato dish for the holiday table. We wrapped cubed potatoes seasoned with brown sugar in foil and baked them until they were soft. The food processor ensured a perfectly smooth puree, and butter and cream added richness, while cinnamon, orange zest, and a pinch of cayenne rounded out the flavors. Finally, a simple topping sprinkled over the casserole and a quick turn under the broiler created a crisp, caramelized crust.
Ingredients
Serves 8
6 – 7 medium peaches (ripe, about 6 cups)
1 tablespoon lemon juice from 1 lemon
1 cup granulated sugar
1 tablespoon granulated sugar
pinch ground cinnamon
pinch ground nutmeg
pinch table salt
4 tablespoons potato starch
Instructions
Remove dough from refrigerator (I use Pillsbury premade pie crusts)  Cut one of the sheets in 1" wide strips.  Line the pie plate with the other sheet.
Adjust oven rack to lower-middle position and heat oven to 425 degrees. Peel peaches and cut into 3/8-inch slices. Toss peach slices & lemon juice in medium bowl, then, blend all the dry ingredients – sugar, cinnamon, nutmeg, salt, and potato starch and add to peaches.
Turn mixture into dough-lined pie plate. Weave the strips of dough to form lattice top and place on top of peaches. Lightly brush lattice top with 1 tablespoon water and sprinkle with remaining 1 tablespoon sugar.  Cover the edges of the pie with foil.  Place pie on baking sheet and bake until crust is set and begins to brown, about 25 minutes. Rotate pie, remove foil, and reduce oven temperature to 375 degrees; continue to bake until crust is deep golden brown and filling is bubbly, 25 to 30 minutes longer. Cool on wire rack 2 hours before serving.
Top with vanilla ice cream, and enjoy!
The Kitchen Casanova Recipes