What should I know about outdoor kitchens?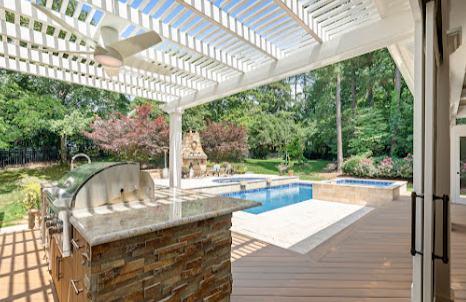 Outdoor kitchens have become increasingly popular in recent years as more and more people are looking to entertain and cook outdoors. An outdoor kitchen can be a great way to extend your living space and create a more inviting and enjoyable environment for your family and friends.
If you're considering installing an outdoor kitchen, there are a few things you should keep in mind.
What kind of outdoor kitchen do you want?
There are many different types of outdoor kitchens available, from simple to elaborate. Some outdoor kitchens are simply a grill and a countertop, while others include a full range of appliances, such as refrigerators, griddles, smokers, and even pizza ovens.
When deciding what type of outdoor kitchen you want, it's important to consider your needs and your lifestyle. If you're planning on using your outdoor kitchen frequently, you'll want to invest in a more durable and well-equipped kitchen. If you're only going to be using it occasionally, you can get by with a simpler setup.
Where will you put your outdoor kitchen?
The location of your outdoor kitchen is important for both function and aesthetics. You'll want to choose a spot that is convenient to access, has plenty of space, and is well-lit. You'll also want to avoid placing your outdoor kitchen in an area that is too windy or too hot.
If you have a patio or deck, that's a great place to put your outdoor kitchen. You can also build your outdoor kitchen on the ground, but be sure to choose a level spot and install proper drainage.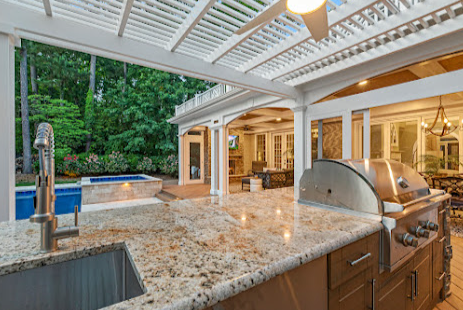 What appliances and amenities do you want?
Once you've decided on the location of your outdoor kitchen, you need to start thinking about what appliances and amenities you want to include. Some of the most popular outdoor kitchen appliances include:
Grills
Smokers
Pizza ovens
Refrigerators
Power Burners
Griddles
Kegerators
Sinks
Countertops
Cabinets
In addition to appliances, you may also want to consider adding other amenities to your outdoor kitchen, such as a bar, seating area, or fire pit.
How do I minimize maintenance on an outdoor kitchen?
Outdoor kitchens require regular maintenance to keep them looking and functioning their best. Here are a few tips for minimizing the maintenance on your outdoor kitchen:
If using metal cabinets, select a powdercoat finish to make them easy to clean.
Select countertops that don't absorb water, like sintered stone, or Lundhs Real stone that are primarily feldspar, and don't absorb water.
Keep lines simple and smooth that won't keep dirt and grease from being wiped away.
Cover appliances and furniture when not in use.
By following these tips, you can ensure that you spend less time maintaining your outdoor kitchen and it will last for many years to come.
Conclusion
Outdoor kitchens can be a great way to enhance your home and lifestyle. If you're considering installing an outdoor kitchen, be sure to do your research and plan carefully. With a little planning, you can create an outdoor kitchen that is both functional and beautiful.