What's the Right Color for Your New Kitchen?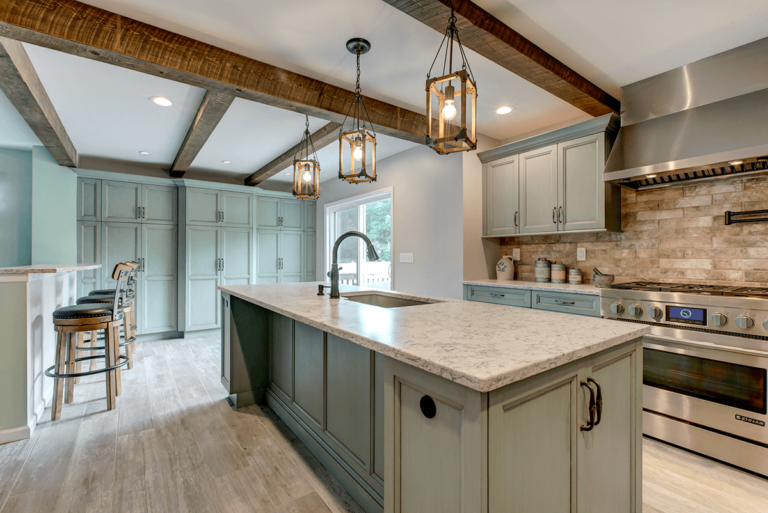 Today we are living in our homes in new ways and spending more time at home than we possibly ever have before. Life has slowed down and allowed us to begin examining our spaces. Perhaps your kitchen's layout does not work well, or make you feel quite the way you wished.
Maybe you are noticing the bathroom everyone typically uses in shifts during the week, needs to be more efficient when it is all being shared at the same time, or you are realizing it could use a facelift.
The Impact of Color
While the world may have slowed down, here at Distinctive Remodeling, our minds are constantly creating new ideas and innovative ways to help make your spaces unique, distinct, and functional. We are happy to say we are here and available to help guide you through the selection process and design for your new spaces.
In the meantime, we'd like to share our thoughts on one selection that makes a big impact in a kitchen or bath: color. Color can change the mood of a space. It can make you feel inspired, relaxed, or even hungry. It can set the tone for any room, can carry a scheme throughout the entire space, and give your home true fluidity and harmony.
Color selection is a science and our team can help you identify what is best suited for you and your space.
A Touch of White
White is a staple, a constant, and classic, however, there are literally hundreds of shades of white. While a well-designed, all-white kitchen can feel streamlined, modern and clean, a poorly designed space can seem sterile and cold. Playing with shades of white and introducing textures, patterns, or mixed materials can bring life to an all-white room.
Bringing in natural materials such as wood floors, warm brushed brass hardware, or even vibrant fresh flowers, can transform that all-white kitchen into a cozy and inviting space.
Make Your Kitchen Your Own
If white isn't your thing, that's totally cool! Beautiful wood cabinetry in natural, medium tones creates a warm, neutral backdrop for any design style. Wood can be sleek and contemporary, or soft and classic. Mix it up with painted cabinets to add visual interest. Use lighter wall cabinets, with darker bases, to make the ceiling feel higher. Go bold with a kitchen island that makes its own statement, or add contrasting panels, stunning hardware, or distinctive accents to create a style that's uniquely you.
There is no rule that says color can't also be neutral. Start to step out of that box with a color such as Navy. We have been seeing this color used in interiors for the last several years. The great thing about Navy is that it reads as a neutral although it is a color, which makes it an effortless companion to neutral palettes, without tying you to a specific color scheme.
Think Outside The Box
Looking for more drama? Crank it up! Bring in bold, beautiful, black and bright, saturated colors. The high contrast of black, in any form, can instantly add drama and interest to a space. Black is a classic and powerful color choice. Show off your personality with saturated colors like bright fun pinks, earthy greens, rich purples, and moody reds. Imagine beautiful high-gloss, refrigerator panels in a deep turquoise, playing off natural bamboo cabinet doors, or a back-lit, precious stone countertop with a rainbow of color as your focal point. There is a solution for every person and every space.
Whether it is neutral and calm, dramatic and moody, or anything and all things in between let us help guide you through what can be a complex coordination of life, dreams, imagination, oh, and color!