The True Cost of a Kitchen Remodel
The Reality of Remodeling
We advise all of our clients that home improvement television and websites are great sources of inspiration. You'll find many interesting ideas, concepts and products on HGTV, Houzz, and the like. 
Regrettably, those platforms are also the source of misinformation that creates unrealistic expectations when it comes to the project timeline and budget.
HGTV and others are in the entertainment business. That's why there is a familiar pattern for each episode. The budgets quoted typically do not account for design services, materials that are donated, and labor.
So when Raleigh homeowners ask us how much a kitchen remodel will cost, our answer is always the same: It depends. 
Factors that Influence a Kitchen Remodel Cost
Size and scope of the renovation
If the renovation involves reconfiguring infrastructure such as windows, doors, pipes, ductwork, utility lines and other components behind walls
If the renovation requires changes to meet current building codes
If the renovation increases the size of the existing space
Type and quality of materials desired

Cabinets
Countertops
Appliances
Plumbing fixtures
Lighting
Organization accessories
Seating
Backsplash
Floor coverings
Wallcoverings
Technology
Hardware
Because of the unknown variables involving scope and materials, it is impossible to estimate the cost of a remodel without answering several important questions. We need an understanding of the goals of the remodel and the resources that will be used for the project. 
There are calculators and estimators that you can find on websites published by credible organizations such as the National Kitchen and Bath Association. Still, those tools don't address what is most important to you and how meeting your goals will affect the cost of a remodel.
Here is our estimate of a percentage breakdown for the cost of a kitchen remodel: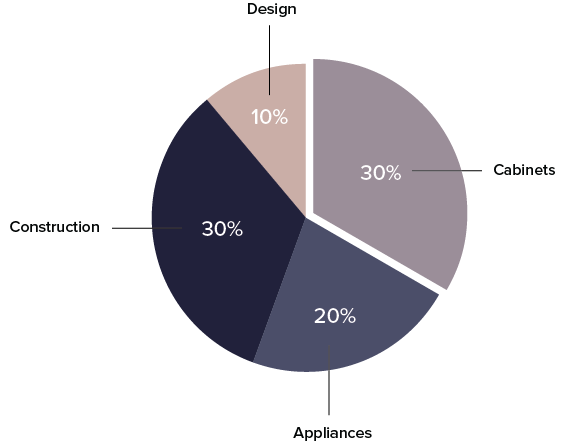 These are general guidelines that will change based on project scope. To see starting points for a typical Distinctive kitchen remodel, visit our pricing guide.