The State of Bathroom Design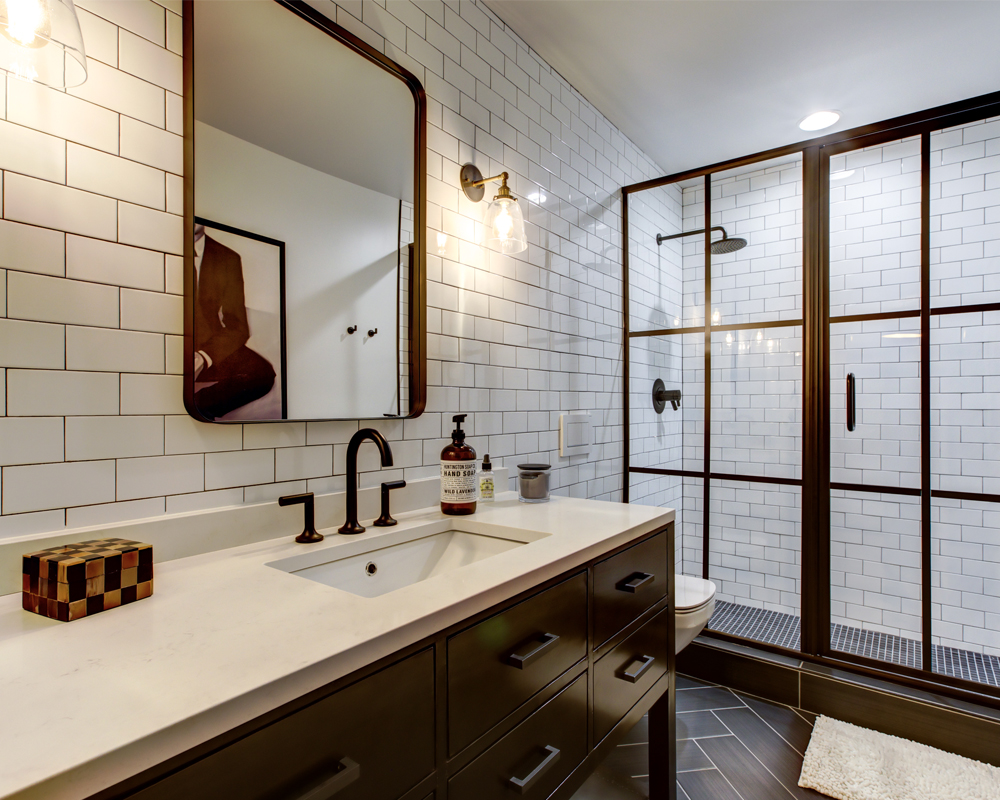 Bathroom design has climbed numerous notches in the past decade. Today, successful design focuses on creating a personal oasis that provides an escape from the outside world. It is a space that you call your own, devoid of texts and tweets, and a place where you can literally wash away the stresses of the day.
The baths we create for our clients provide them with a refuge and a place to relax. Many of our clients are inspired by their travels. They stay at hotels, resorts and spas that spark their imagination and ask themselves, why can't we create a similar a place of wellness in our home? You can! Many of the baths that we design feature jetted, soaking, air or combination tubs, steam showers, showers with multiple spray heads, music, aroma and color therapies.
Designing a master bath gives us the opportunity to improve the quality of our clients' lives while simultaneously permitting them to make a unique design statement. There are health and wellness benefits to consider alongside practical considerations. If you are building a new master bath, the finished product should be easy to use, provide practical value and make you feel like a million bucks every time you cross the threshold.
The trend toward outfitting bathrooms with beautiful furniture reflects the changing dynamic of baths, especially the master bath. The master bathroom has become a room that is a refuge from the frenetic pace of daily life. The bath is a haven where families can make unique design statements and enjoy spa-like experiences in their homes. The bath is a place where individual family members can steal a few minutes to relax and rejuvenate.
Bathrooms can include sofas, comfy chairs, benches and other pieces that extend the living area into the bath. Wood tones add warmth and serve to contrast white ceramic and acrylic surfaces of tubs, basins and water closets. With this transformation, the standard white vanity has given way to elegant and expertly crafted furniture pieces that create the look and feel of stress-free luxury. Many of our clients don't want to fill their bath with built-in cabinets and countertops. Instead they opt for freestanding étagères, cabinets, armoires, wall-hung vanities, seating areas and storage pieces.
Function is another critical factor. A beautiful bathroom is an organized bathroom. Our clients' days are hectic. They don't have time to search for their favorite tube of lipstick or wait for their curling iron to heat up. That's why we specify bath furniture with storage solutions and convenience features that include interior adjustable shelving, pullout trays, interior lighting, hairdryer/curling iron holders, interior electric receptacles, USB port charging stations and drawer dividers.
In larger baths, many of our customers enjoy separate spaces with different vanity types, styles and heights for individual grooming stations. In these circumstances, there are opportunities to distinguish two spaces by installing mirrors, sconces and other types of lighting. A common practice to help separate space in the bath is to use wall mirrors, armoires, étagères, ceiling-hung mirrors or a wall of mirrors.
When you combine furniture with fixtures it results in an enhanced use of space and integrates the new bath with other rooms in the home. If you are interested in discussing a bathroom renovation for your home that will provide years of enjoyment and the opportunity to improve your health and well being, please give us a call at 919-772-3335 or schedule an appointment to visit our design office at 1228 United Dr., Raleigh, NC 27603.