Stunning Full Kitchen Remodel!
Holly Springs, N.C.- Our team did an amazing job designing and producing this Holly Springs full kitchen remodel. This remodel has several striking features that helped create a unique aesthetic. Most notably, the unique weaving of the hexagonal floor tile and wood flooring!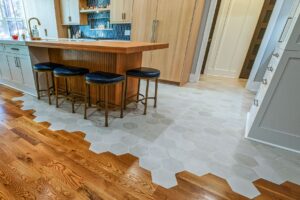 An additional extraordinary feature of this kitchen reno was the combination of quartz and Strata Beech wooden countertops. The blending of these two countertops complements the weaving of the hexagonal tile in the kitchen with the wood flooring in the living area. By using both wood and quartz materials for the countertops, we were able to create a clean appearance and add a warm theme throughout the space.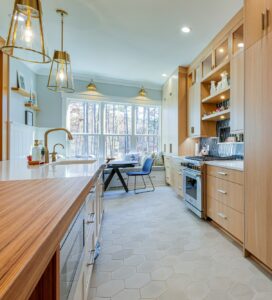 Satin brass fixtures throughout contributed to the warm atmosphere. Three aged brass hanging light pendants were used above the kitchen island as an anchor. Two brushed brass light sconces were placed above the window seat for added ambient light. A champagne bronze faucet was also installed for a cohesive look.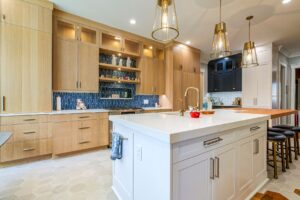 White oak wood cabinets in a natural storm stain on the back wall paired effortlessly with the decorator's white and navy cabinets throughout the rest of the space. Bringing the clean and warm atmosphere of the kitchen together.
A stained beam with custom satin brass straps frames the kitchen and ties the two themes together in a masterful way.