Re-envisioned: Transitional Home Undergoes a Modern Revamp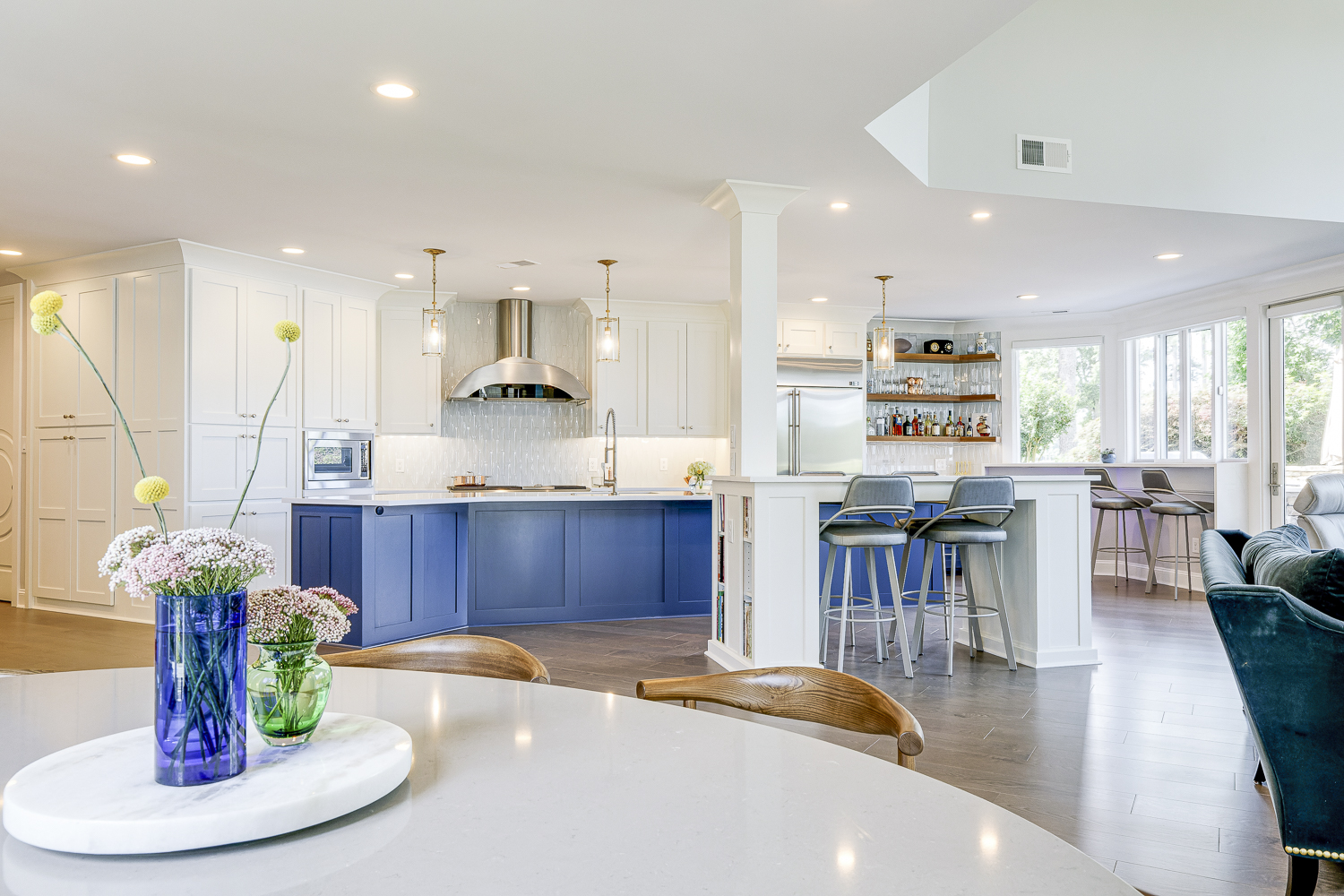 A Transitional Past:
Originally built in 2002 as the "Home of the Century" in the area of Cary, North Carolina, this home was considered very modern for the time.  The previous owners sought to tone down this style and added a few traditional aspects. Hence, this home was formerly regarded as transitional. Warmer tones and intricate detailing appeared throughout. Additionally, iron railings, darker-toned fixtures, and dark cabinetry accentuated the home. Although these features and color schemes can be inviting, the new owners saw more potential in this home.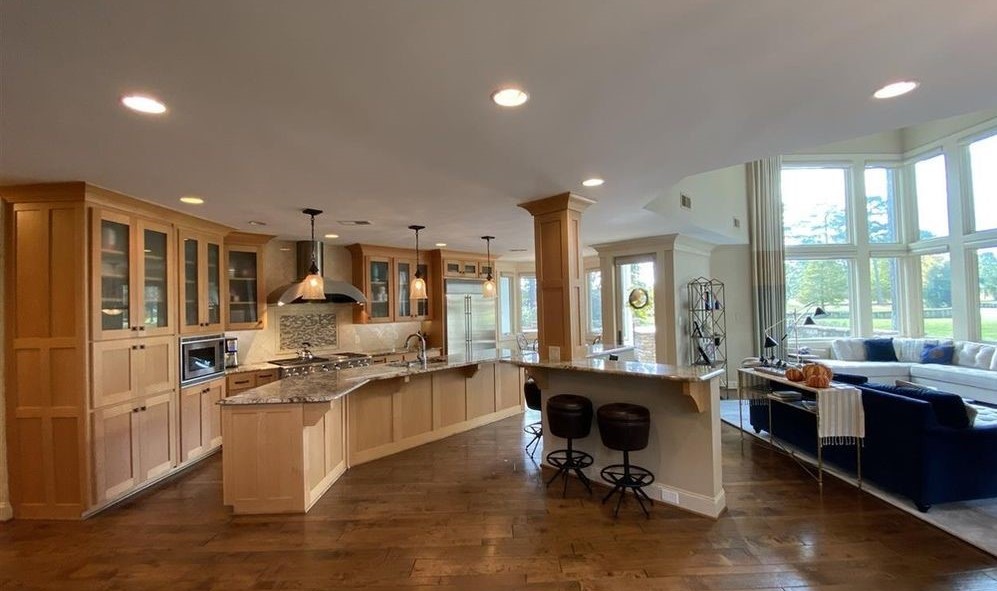 Stained wood cabinets with dark hardware can be seen throughout. Neutral-colored backsplash with dark accents also appeared in the kitchen. Bulky columns with rectangular debossed patterns were present throughout the kitchen, living, and dining areas.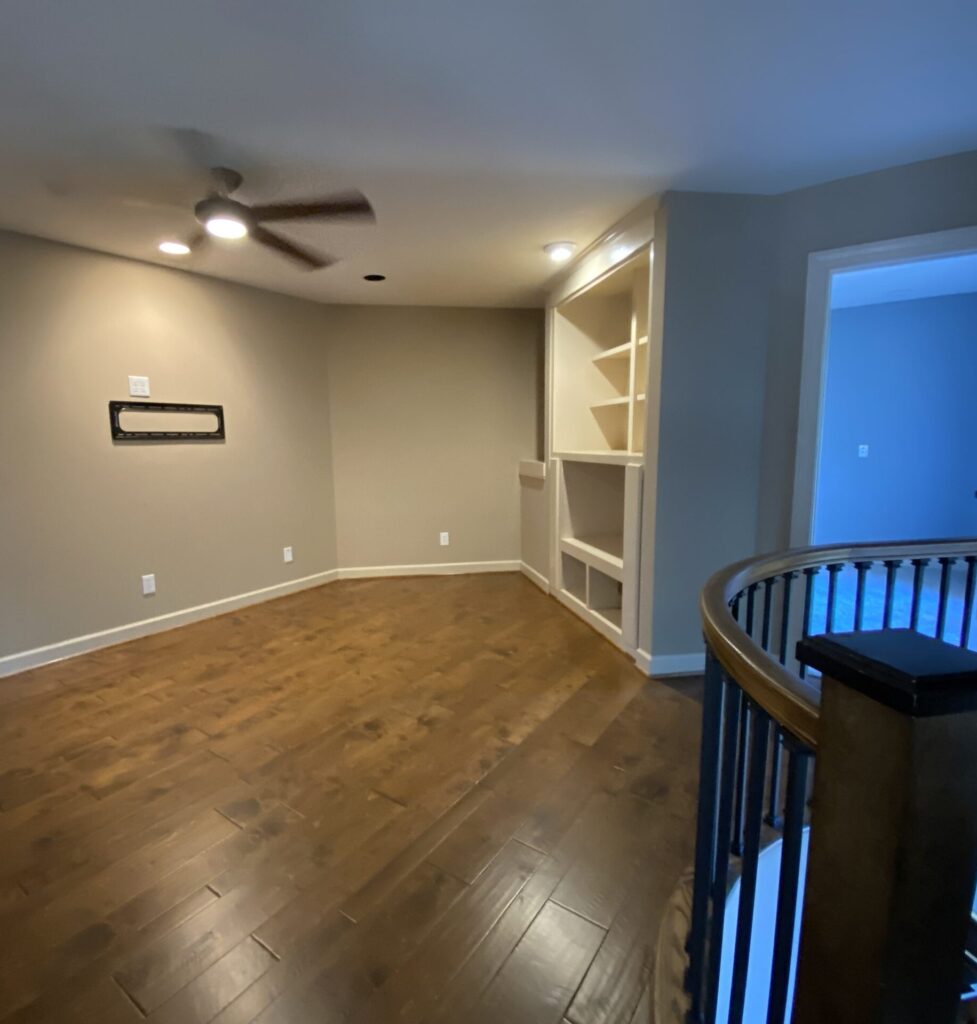 The loft area was formerly painted a grey/beige neutral color, featured built-ins, and included a small office space.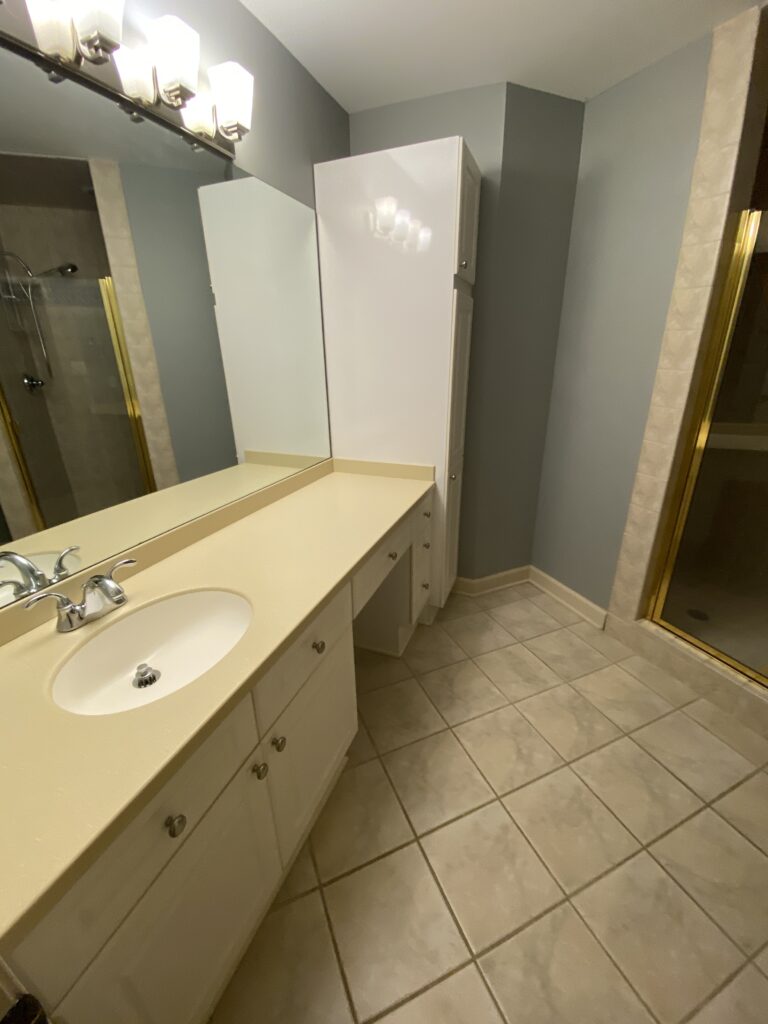 The hall bath was dimly lit and used a mixture of gold and silver fixtures. The shower also included a wall, which enclosed the space.
A Modern Revamp:
A bright, modern, and open space was envisioned for this 3,000 sq. ft. home. Design team member Andy Hernandez used bright colors and contemporary materials/fixtures to create a modern and simplistic look.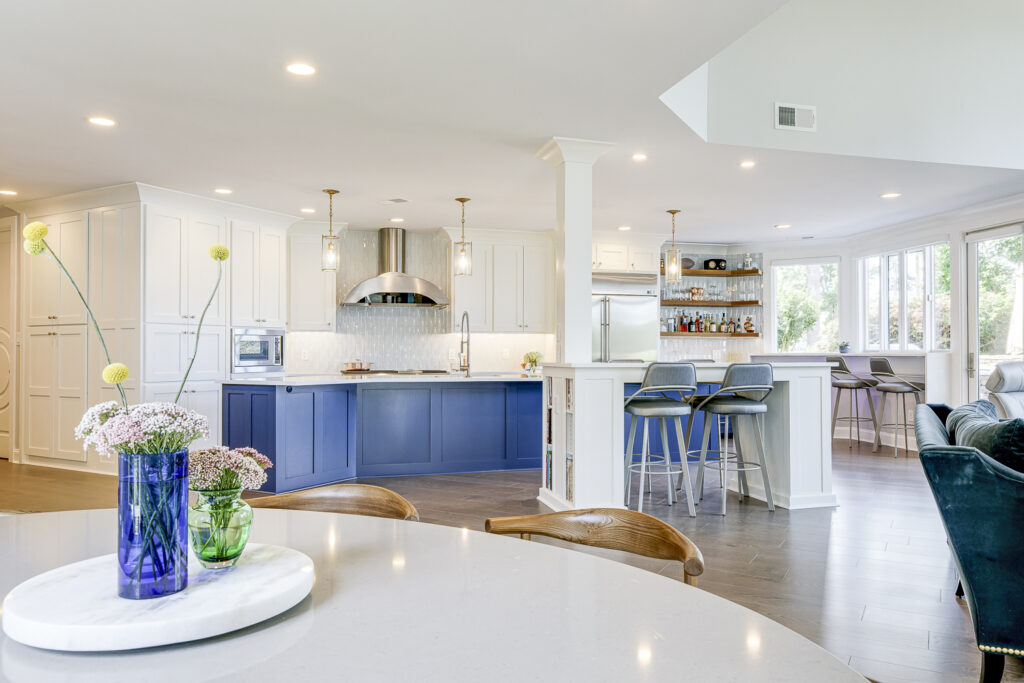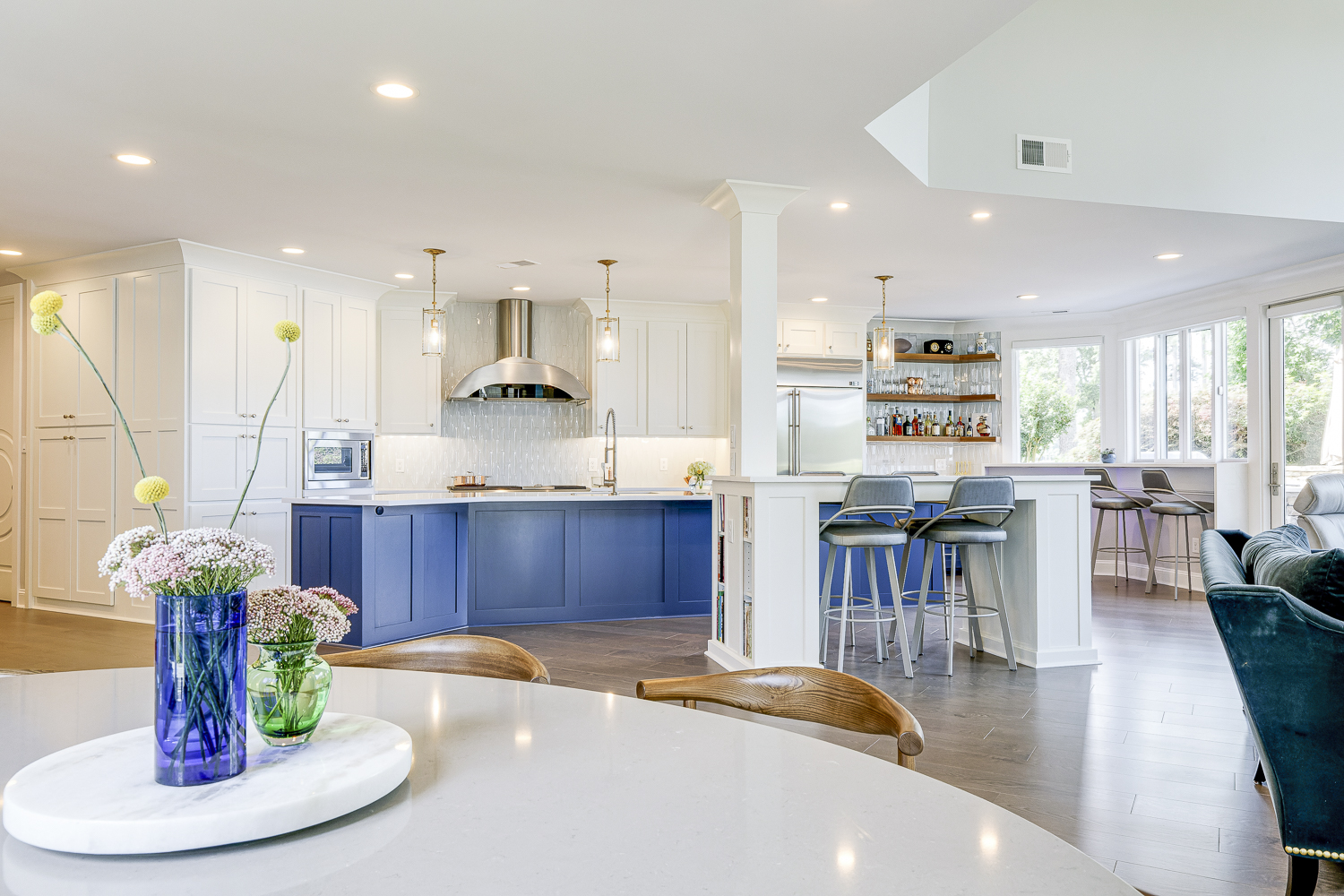 In order to help create the resemblance of  an open kitchen, a sliding glass pass through window was added.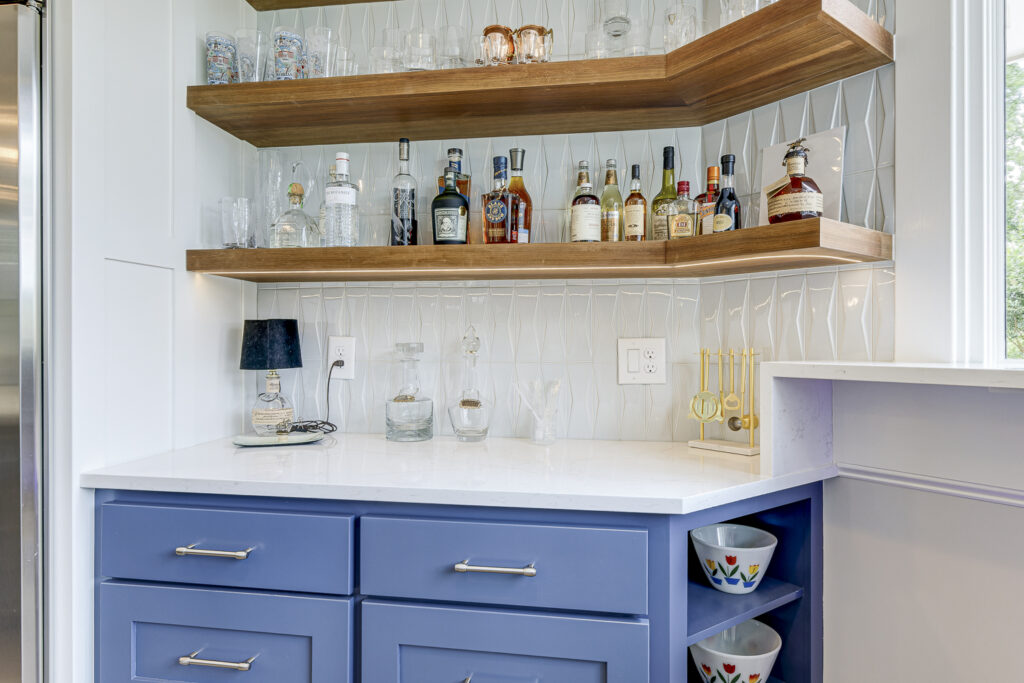 Floating shelves were installed to portray a more simplistic appearance.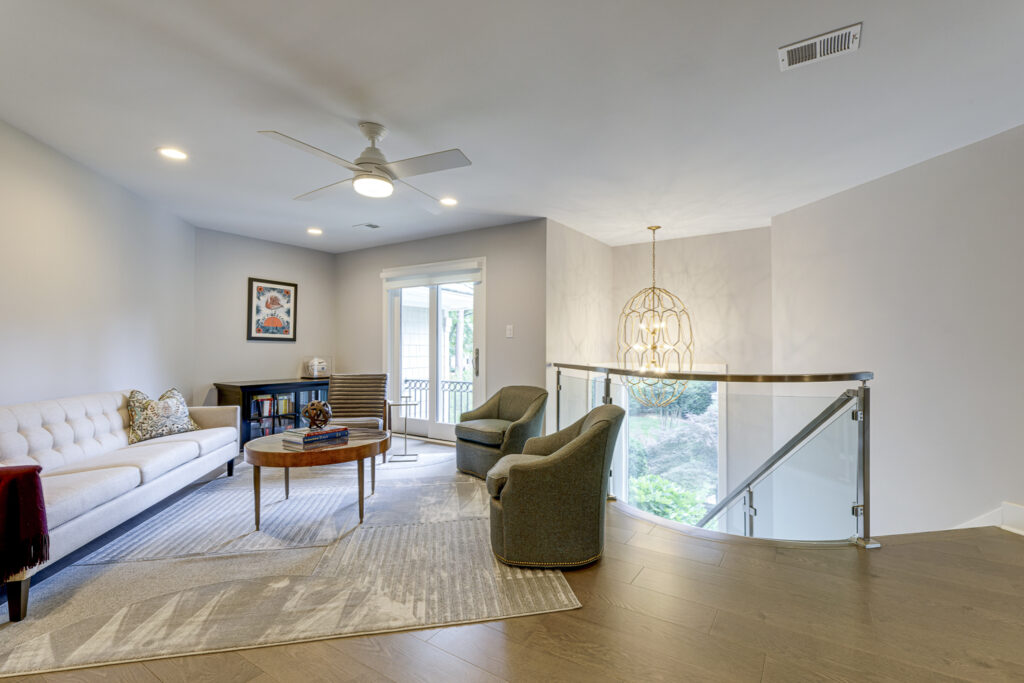 An open loft was created by removing the loft office and built-ins. A sliding glass door, that was once hidden in the loft office, is now visible upon entering the main loft area. Meanwhile, glass panels and silver railings were used to replace the dark iron railings that previously accompanied the staircase leading into the loft. The use of glass contributes to a new, sleek appearance.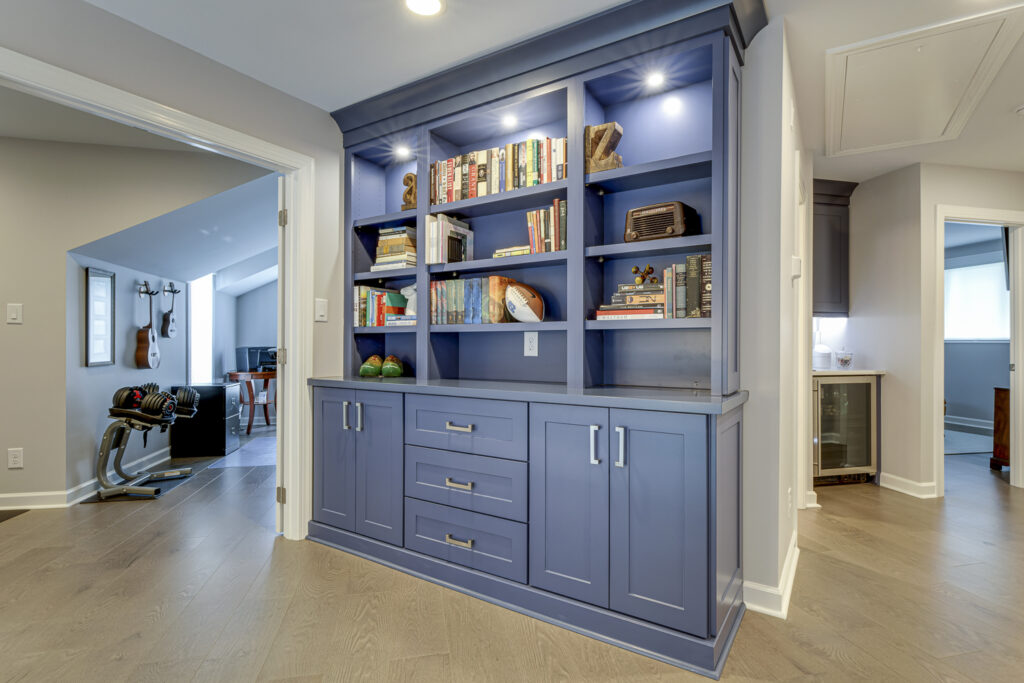 Our team installed custom navy, blue cabinets in order to add a bit of color and functionality to the upstairs loft space.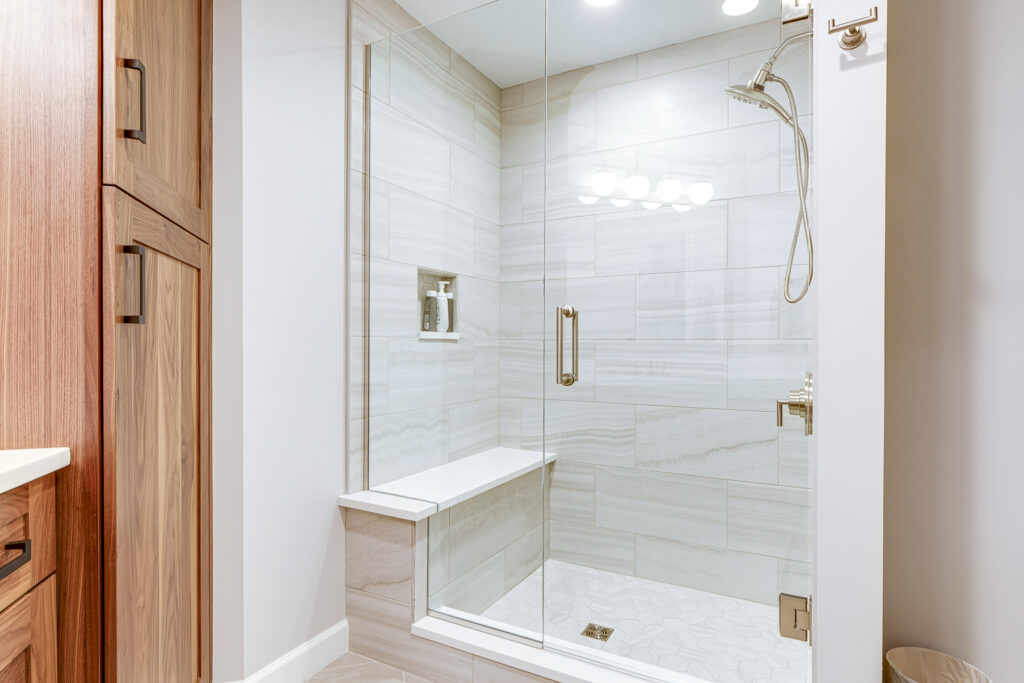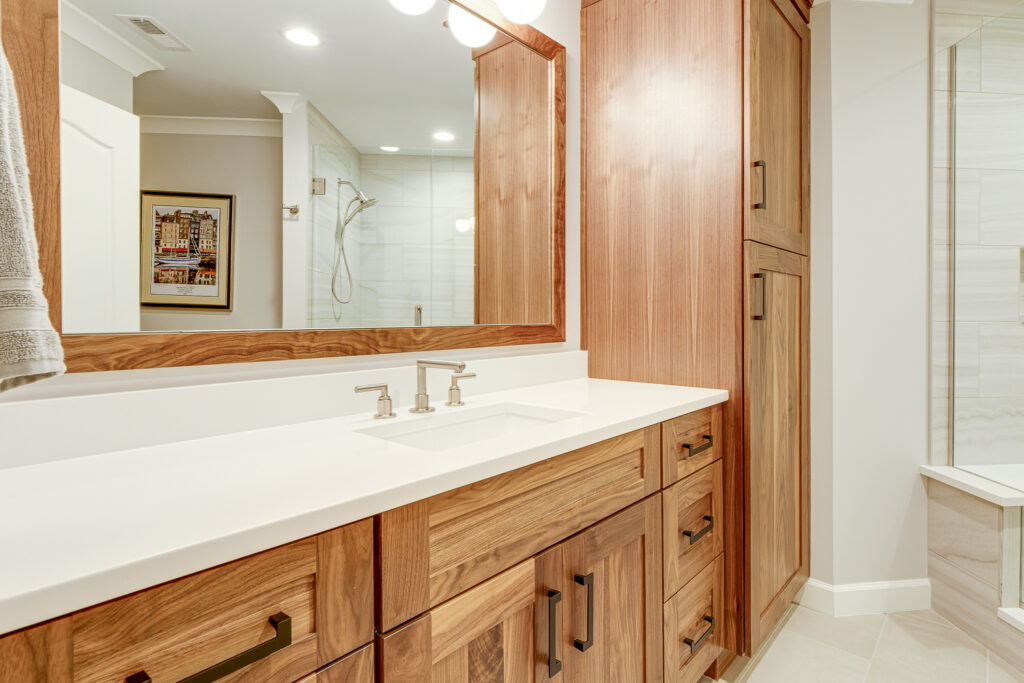 The hall bath was given an updated appearance by installing new cabinetry. Additionally, removing the divisive shower wall and replacing it with a glass panel opened up this space.
Overview:
Our team did a brilliant job converting this traditional home into an open, modern space for the new home owners to enjoy. The navy blue cabinetry gives a sense of tranquility throughout the home. The use of white paint and silver fixtures created a seemingly brighter, more open space. Removing built-ins that are commonly found in traditional homes and adding floating shelves helps to maximize the use of the space while still maintaining an open appearance. The columns that could be found in the living, kitchen, and dining spaces were slimmed down in order.  New light fixtures, cabinetry, and flooring were also used to give the home a contemporary feel.
Additional photos from this project can be viewed in our 2022 Remodeling Awards Entry article: A Transitional to Modern Remodel, which is linked below.
https://www.distinctiveremodeling.com/blog/2022-remodeling-awards-entry/