How to Improve the Efficiency of Your Bathroom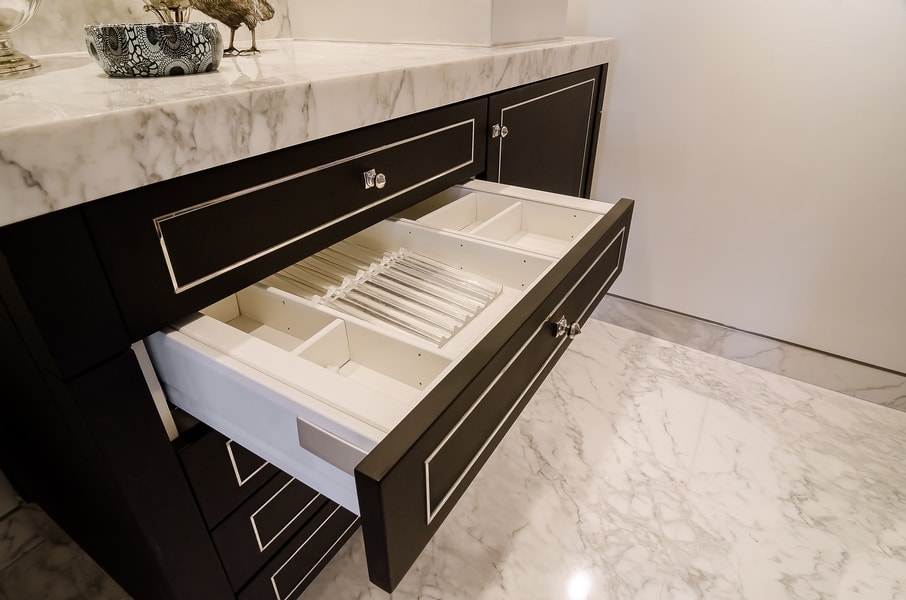 A well-designed bathroom is an organized bathroom. Because bathroom space is often limited, there is a greater premium on organizational tools that make using the bath easier and more enjoyable. In master and secondary baths and even powder rooms, the vanity or sink stand often does the heavy lifting for storage, and thanks to recent innovations, storage options have increased significantly.
Open Shelves
When storage space is at a premium, vanities with open shelves create storage space for towels and baskets around drains, traps and other plumbing components. Open shelving is an extremely attractive option that can provide a visual focal point.
Specialized Drawers
Shelves and roll out drawers maximize the space under and around plumbing in vanities with doors. Roll out drawers can hold baskets or be equipped with dividers for cosmetics, curling irons, hair dryers, etc.
Many vanity manufacturers offer drawers and shelves with notches in them that help to minimize loss of storage space caused by piping that flows through the vanity to the sink and faucets. The vanity also can be wired for electricity or used as a cell phone or tablet charging station.
Shallow & Deep Drawers
When it comes to vanity drawers, keep in mind that the depth impacts storage. Shallow drawers help to work around the sink's plumbing and can be used to store makeup, shaving tools, tweezers, brushes, etc.
While shallow drawers may be great for storing small things, they don't offer the functionality needed for storing larger items. One possible solution is to specify a double drawer to double the depth. The exterior is fitted with two pulls to provide a consistency of look but there is only one drawer.
If you would like to discuss these and other ways to improve your bathroom, please call us 919-772-3335 to schedule a visit to our showroom at 5910-127 Duraleigh Rd. Raleigh NC 27612.