Before & After: A Townhouse Transformation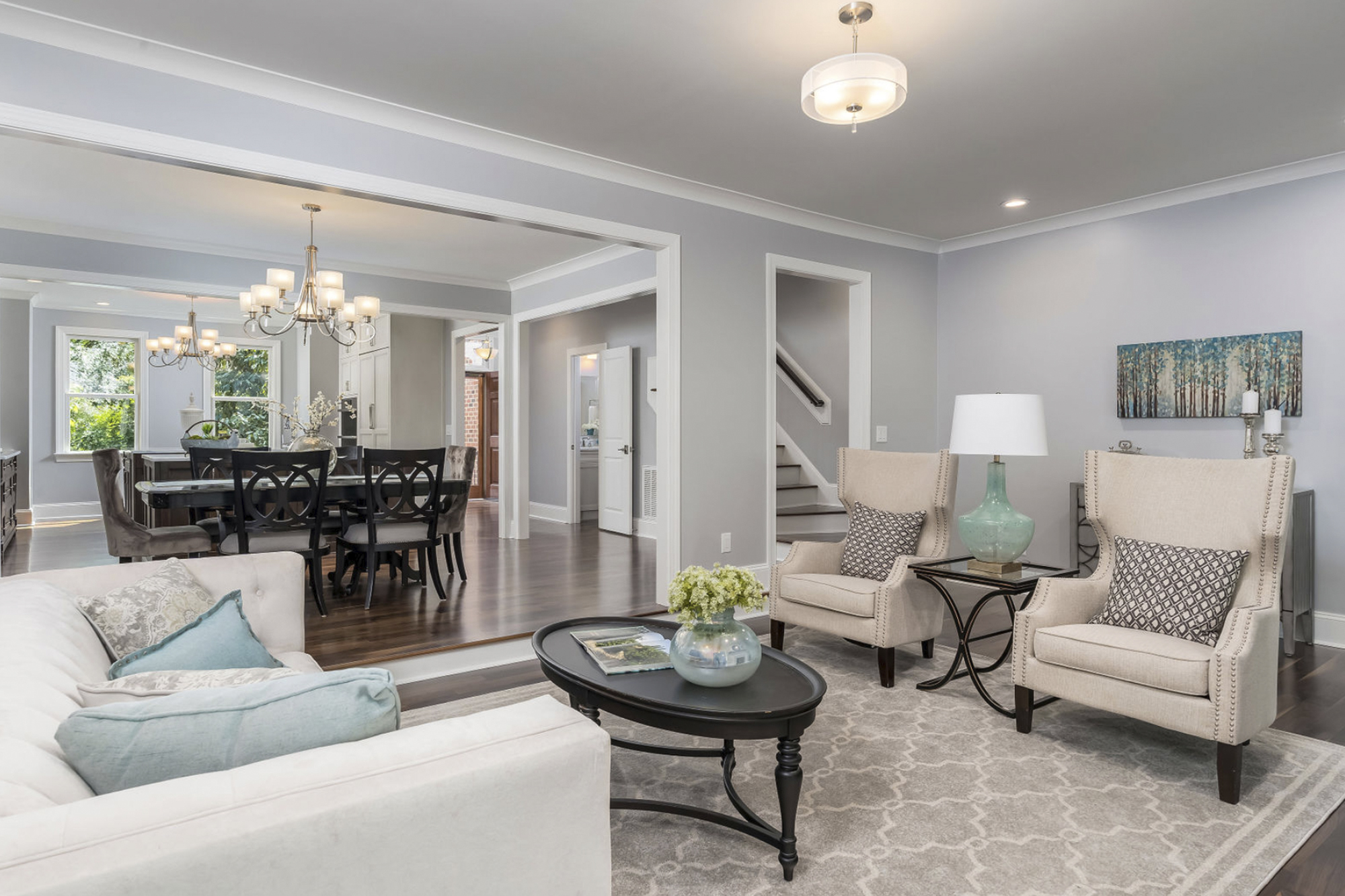 At Distinctive Remodeling, we love the challenge of an ambitious remodel and this "inside the beltline" Raleigh townhouse certainly qualifies for that. This month's featured remodel is a whole-house renovation of a spacious 3-story townhouse.  The design work was a team effort of Stephanie Ferguson and Michelle Bonds, who did an outstanding job of bringing this 1985 townhouse into the 21st century.
The townhouse was in bad need of structural repair and layout updates that make it a more open floor plan.  An extra bedroom and bath were also incorporated into the design, not to mention all new finishes throughout.  Browse the following pictures to see the fantastic results.
After remodel images photographed by Mammoth Hammer.
Before Remodel
The dark carpet was making the townhouse feel dark, lifeless, and outdated. Most importantly, the layout was in need of a refresh with a more open floorplan better suited for entertaining.
After Remodel
On the first floor we expanded the foyer, enlarged all the cased openings, and removed the wall between the kitchen and dining room. Beautiful walnut floors on the first two levels set the stage for a warmer and more welcoming home.
The kitchen features stunning custom cabinets, marble countertops, and luxury Dacor appliances provided by Distinctive Kitchen and Appliance World. Storage for the dining room was cleverly added to the kitchen island providing new functionality.
"Creating an open concept we eliminated most of the wall space from the dining room. The added cabinets now provide extra storage and serving space to the dining room and living room" says Michelle.
The custom fireplace, designed by Michelle Bonds and built by Cabinets By Horizon, features a walnut mantle and marble mosaic accent tile.
Moving to the second floor, a small bedroom and the adjacent access hall were eliminated, allowing for an expanded master suite, with a spacious and luxurious bath and large walk in closet.
On the third floor we converted attic space into a full bedroom suite.
Since there were no windows on this level, we added a functional skylight for egress.
The homeowner was thrilled with finished remodel, especially the new open concept layout. Open concept homes have become a popular choice with Raleigh homeowners – and for good reason.
"Open transitional spaces bring a lot of versatility to a home. When we're designing a remodel, we aim to create multi-functional spaces so you have a variety of new ways to use the space. You're never locked into using the space in a single way, and that homeowners really appreciate that flexibility. " says Michelle.