Easy Tips for Maintaining your Kitchen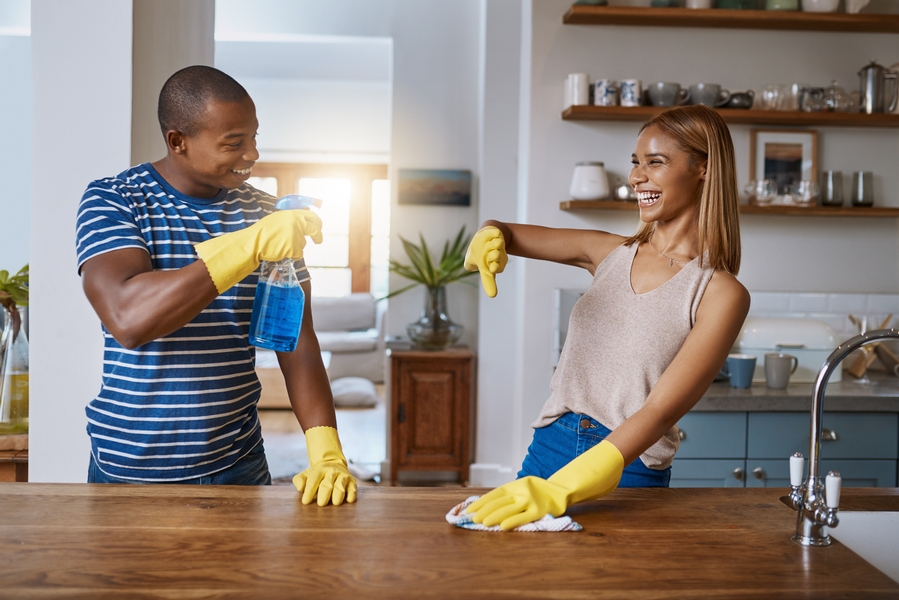 Isn't it nice to come home to a spotless kitchen? Regular maintenance of your kitchen will surely enhance your enjoyment of the space.
We always ask how often you plan to cook, entertain and eat in your new kitchen. Other variables to consider include who will clean the kitchen and how much time you want to spend keeping your kitchen clean. We use all this information in developing a roadmap tailored for you when you begin selecting your kitchen materials.
Cabinets
Cabinets attract grease, spills, and fingerprints and require regular care to maintain their appearance. Inset doors require more care, maintenance and effort to clean than their flat panel counterparts. Inset doors feature recesses and grooves where dirt, grease and dust can more easily accumulate.
White offers an unlimited palette to add pops of color, incorporate metallic tones and make unique design statements with textures, materials and contrasts. White cabinets are also easier to maintain than those with dark paints or stains because darker colors show dust and fingerprints. Scratches and nicks in stained cabinets are easier to fix than those on painted cabinets.
The type of wood finish also affects maintenance requirements. Oak, hickory, beech and other species where the grain shines through are less likely to show stains and scratches.
Tile
Ceramic and porcelain tile are easier to maintain than wood or stone floor coverings. Ceramic and porcelain floorcoverings are moisture-, stain- and scratch-resistant. You never need to seal ceramic or porcelain, but that's not the case with stone.
Stainless Steel
Due to its durability and aesthetic, stainless steel has become a kitchen staple for appliances, countertops, sinks and range hoods. But, as much as we'd like it to be true, it turns out stainless steel isn't exactly what it claims to be.
Stainless steel is highly susceptible to water stains and fingerprints. Additionally, dirt, grease, grime and dust can cause your stainless steel surfaces to rust if they regularly cleaned. It's not difficult to keep your stainless-steel sinks and surfaces in great condition with daily maintenance and proper cleaning agents.
Quartz
Quartz is a virtually maintenance-free countertop material, and that is one of the reasons more homeowners in the Raleigh area are making quartz the number one countertop material for their new kitchens. Quartz is scratch and stain-resistant and can be cleaned easily with soap and water.
Finishes
Are you leaning toward painted cabinets and walls? A popular and easy to maintain choice is a satin finish due to its durability and ability to absorb light. Semi-gloss paint is a smart choice for baseboards and trim due to its ability to resist moisture damage, stains and scratches better than other paint finishes.
Brushed finishes for cabinet hardware, faucets and other components are popular because they hide fingerprints and water spots much more effectively than polished finishes or chrome.