Designers Eye: 6 Inspiring Luxury Kitchens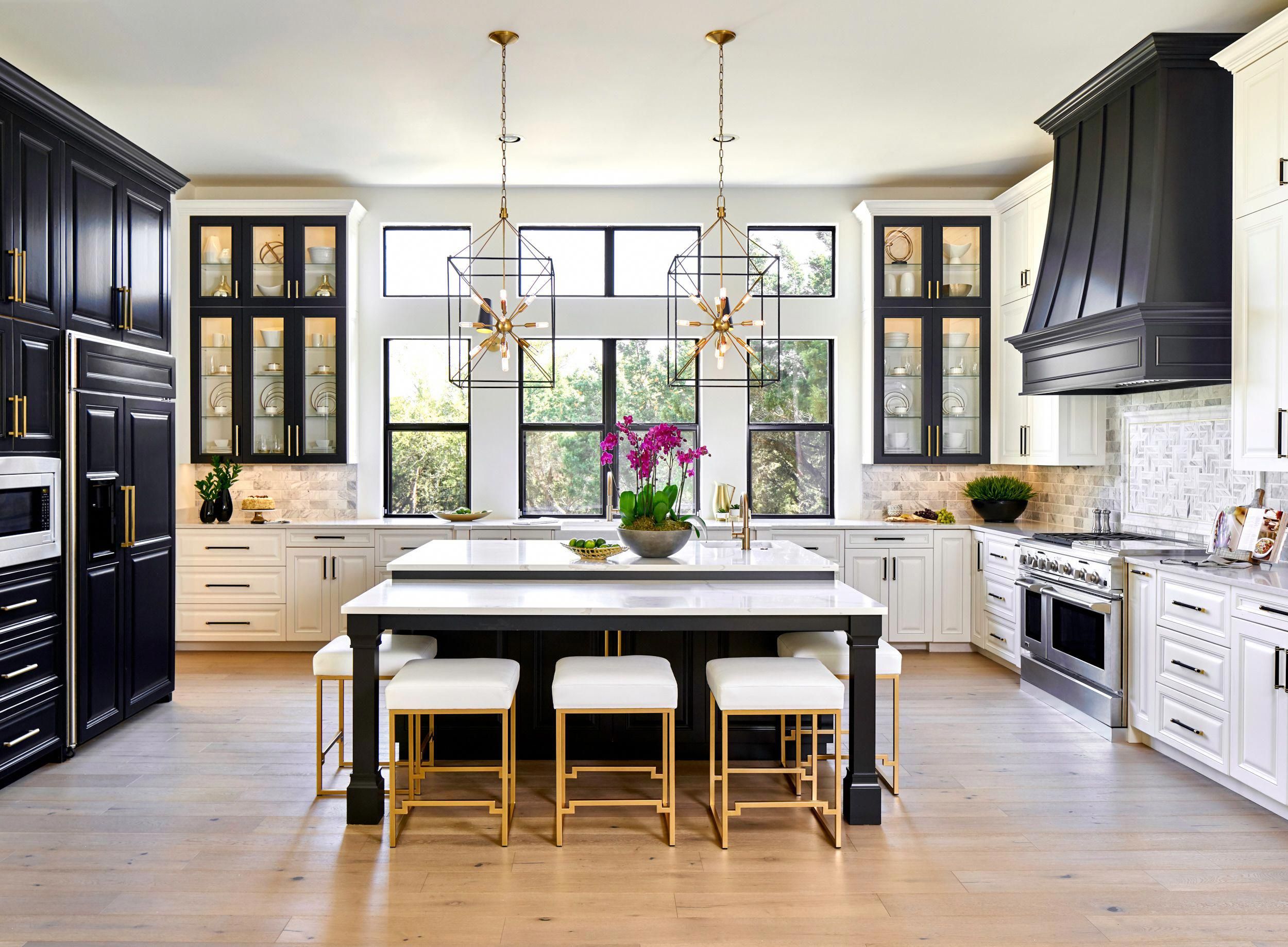 Designers Eye is a new blog series that focuses on interior design trends and inspiration. We'll also including commentary from our design staff – Leslie Cohen (Director of Design) and Michelle Bonds (Designer).
---
Is your kitchen feeling dated? Discover these stylish luxury kitchens and find ideas to give your own kitchen an upscale refresh.
1. White Balance
Leslie
I love how the thick countertop anchors the island, while thin countertops surround the perimeter. The gold lights and accents play with classic beauty against the navy and white cabinets. The doubling of tiles to create the herringbone backsplash pattern is more interesting and less busy than a standard herringbone.
Michelle
The black perimeter countertop and navy island cabinets add depth to this room. The use of dark accents grounds the space and gives the eye a place to rest, enhancing the overall effect of a kitchen that is light, bright, and white.
2. Details Matter
Leslie
Such handsome island cabinet detailing. It feels like fine furniture.
Michelle
Brass pendants, wood beams, and rich details on the island add warmth and character to this space.
3. The New Grey
Leslie
This isn't just another grey kitchen. The grey is warm and the wood accents add a unique twist. Even the long textured backsplash tile steps away from the ordinary. And of course mirrors instead of glass in the cabinet doors is quite elegant.
Michelle
The warm wood island is echoed in the hood valance and open shelves, providing a nice accent and a visual break from the gray cabinetry.
4. Form Follows Function
Leslie
I like how the black-framed cabinet doors echo the design of the windows. Plus the black hood and island adds drama to the room.
Michelle
The lowered island seating area helps to break up what would otherwise be a large expanse of countertop (and perhaps avoids the need for a seam). Lowering, rather than raising, the seating area preserves the view of the kitchen and outdoors. The large island pendants add architectural interest without visual clutter.
5. Material Elegance
Leslie
Love all the cabinet hardware and the sliding wall cabinet doors.
Michelle
This kitchen offers an interesting mix of finishes – the crystal pendants, frosted glass doors, shiplap, and soapstone countertops all enhance the warm wood cabinets. The light floor keeps all the details from getting lost.
6. Keep it Cozy
Leslie
Such rich colors and wonderful textures in the brick and the counter. Yet they've managed to make the room feel light and airy with the large clear windows.
Michelle
Large windows with bookcase lighting visually widen this narrow kitchen and help it to feel spacious, while the warm floor and rich cabinets keep it cozy.