70s Design is Back: 5 Retro Trends That Have Returned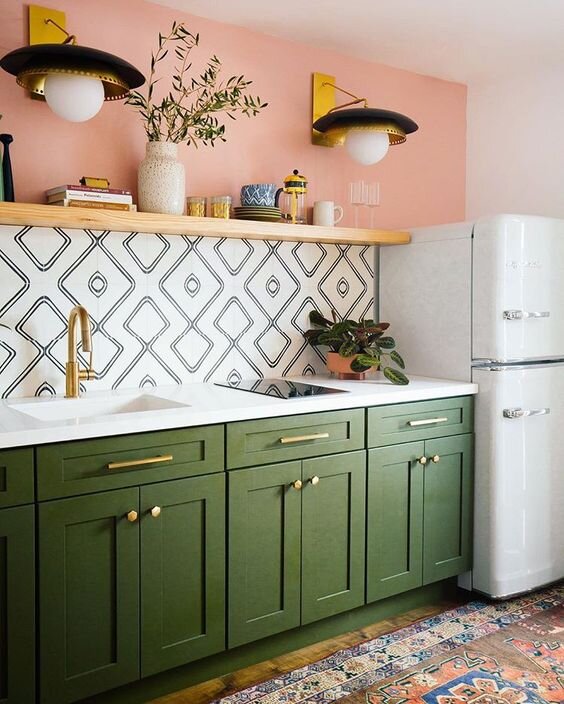 Trends come and go, but right now the 70s style is back in full force. Classic 70s colors, patterns, and materials are back with modern style. If you're looking for inspiration, here are some popular 70s trends that our design team loves.
1. Natural Materials

Michelle Bonds
With the desire to add warmth to our spaces, it is only "natural" that materials such as rattan, cane, reed, and bamboo are quickly finding their way back into our hearts. These palm, vine, and grass-like materials are pliable when harvested and incredibly strong when dried. They can be woven to create simple or intricate patterns.
Today, these materials can be found in many applications in furniture design. In addition, they are an environmentally friendly, renewable resource that can last a long time.
Here are just a few examples from then and now.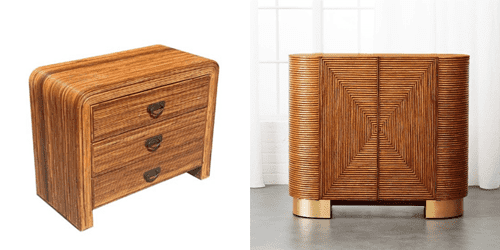 A vintage split reeded rattan chest from Chairish vs. a new reeded rattan bar from CB2
A vintage regency style caned armchair from 1stDibs vs. a new natural cane chair from Crate and Barrel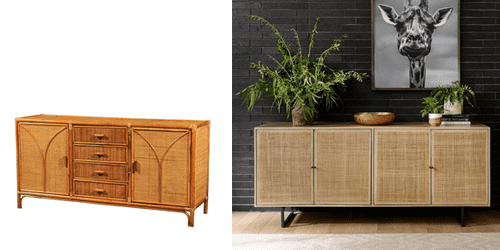 A vintage cane and rattan buffet from 1stDibs vs. a new cane buffet from Pottery Barn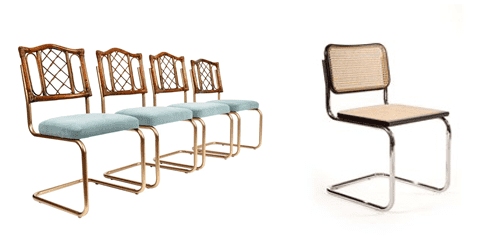 Vintage rattan dining chairs from 1stDibs vs. new cane dining chair from France and Son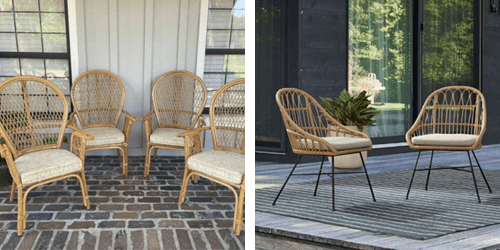 Vintage rattan patio chairs from Ebay vs. new rattan patio chairs from West Elm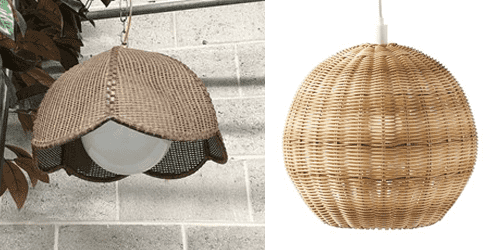 A vintage wicker basket lamp from Attic City vs. a new wicker basket lamp from Serena and Lily
2. Velvet

Andy T. Hernandez
Velvet, considered the height of style and sophistication, was traditionally the choice of material for nobility, due to its richness, softness, and cost to make. From the 70s on, velvet has been a favorite among high society, making it equally highly coveted and easily accessible through pop culture.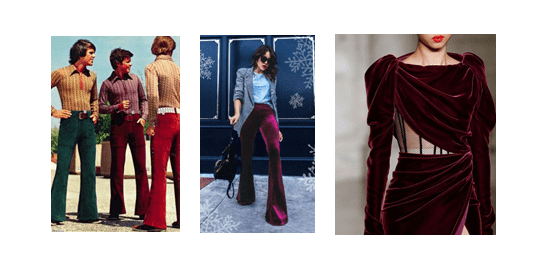 1970s velvet in fashion / 2020 velvet in fashion / Oscar dela Renta Velvet Dress 2021
With luxury fashion companies making the case for this timeless textile on runways, it's no surprise that velvet is now showing up in our everyday wardrobes. And in true trend nature, what begins on the runway rapidly filters into our interiors.
Dramatic by nature, you'll be surprised by how easily velvet will make an impression on your home. Soft velvets in neutral tones and classic lines make for a timeless look. Strong colors, such as emerald-green and orange, have become favorites in mid-century houses.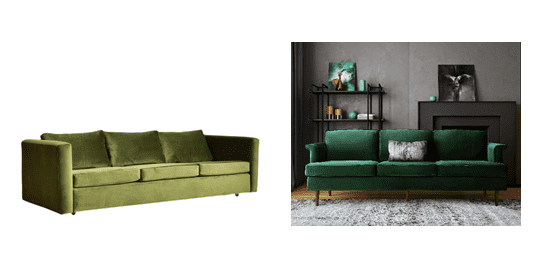 Green velvet sofa then, vs green sofa now
This material adds texture, color, and vibrancy to any space. Whether you're into the smaller details or the bigger picture, the velvet trend is an easy way to give your home some glamour.
3. Wood

Stephanie Ferguson
Who would have thought wood paneling would come back around? Well, it has but this is not the wood paneling you remember from the 70s.
70's Wood Paneling

Credit – Pinterest, Architectural Digest
Today's Wood Paneling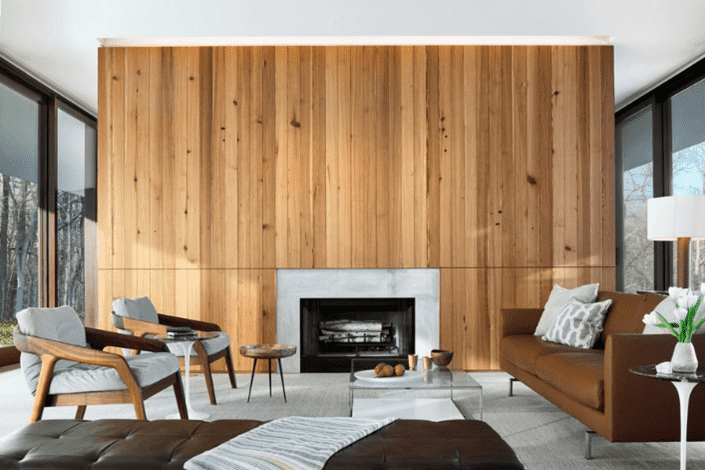 Credit – Modern Home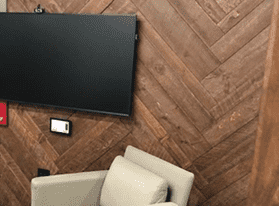 Credit – Northern log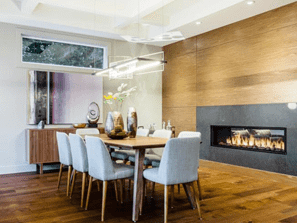 Credit – HGTV
Parquet
This geometric technique of laying wood blocks is an easy way to add character and style to your home.
Parquet is mainly known for its checkerboard pattern in a reddish-orange wood tone or chevron pattern from the 70s. However, today it's done in many other patterns and wood tones. It is stunning!
70s Parquet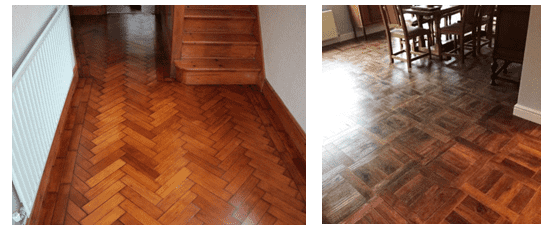 Credit – Chevron Parquet, Broadland
Today's Parquet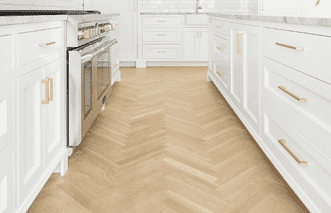 Credit – The Harper House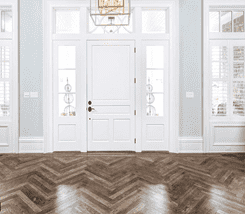 Credit – The Harper House
Exposed Beams
Look at these exposed wood beams and trim from this 1970's living room.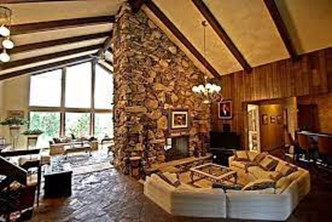 Credit – Pinterest
I think we are all craving the warmth of natural and stained wood after years of cool grays and white! Today, designers are using a balance of wood tones and lighter colors.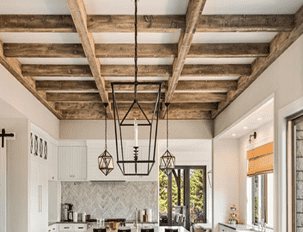 Credit – McCray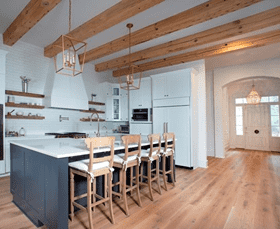 Credit – Albany Woodwork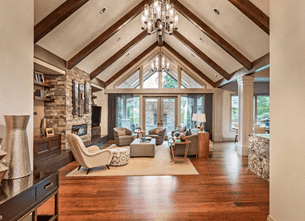 Credit – Home Stratosphere
Wood Cabinets
Wood was everywhere in kitchens from the 70s.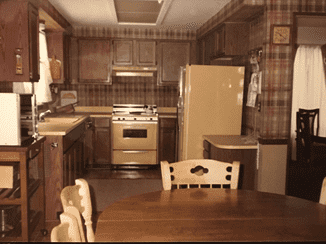 Credit – Reddit
Today's kitchens are not there yet, but wood cabinet tones are making a big comeback. Today it's all about the balance of color, texture, and size.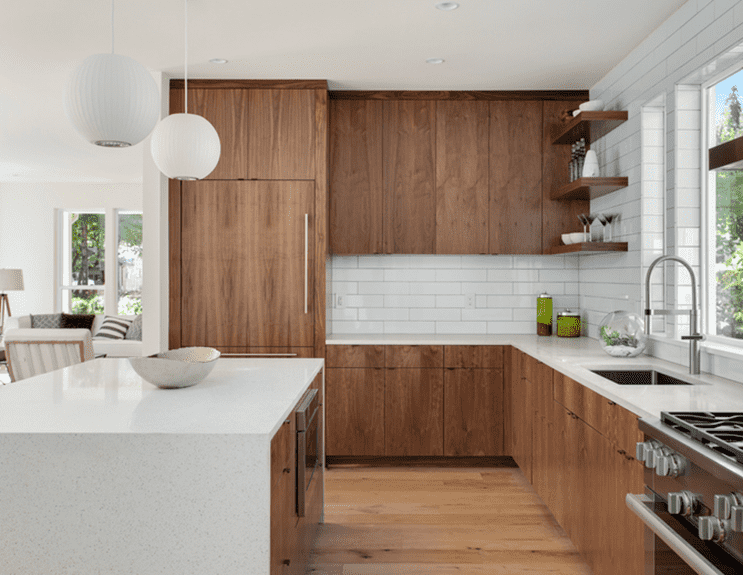 Credit – Better Homes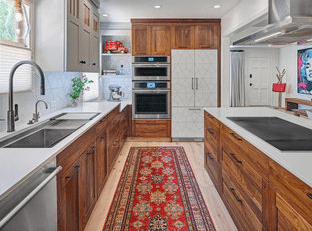 Credit – Houzz
4. Color

April Courtney
If you're growing tired of the gray & white design trend, you'll be excited to know that the bold colors of the 70s are back!
Vintage shades of Avocado, Chartreuse, Forest Green, Gold, Rust, and more are making a comeback this year. More people are gravitating towards modern interiors that are vibrant and packed with personality.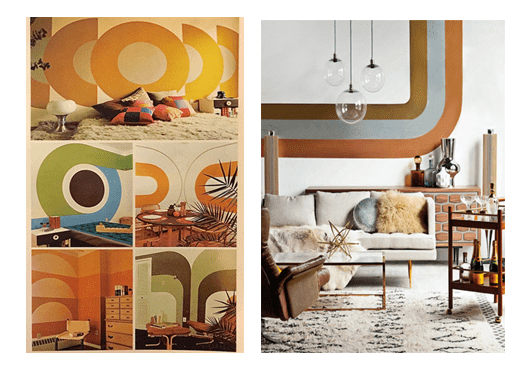 Credit – Supergraphic, France & Son
These vintage colors are making a splash into our neutral spaces in the form of paint, tile, cabinetry, textiles, and even appliances!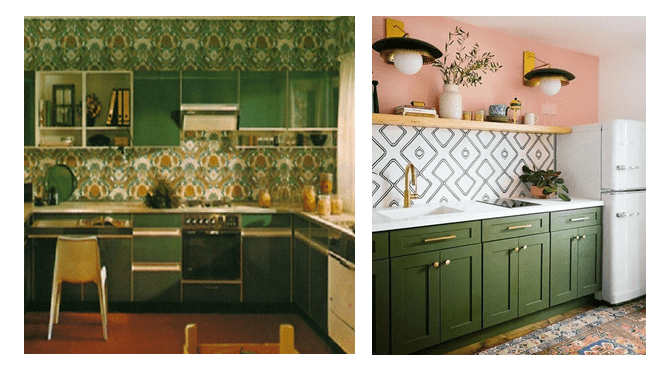 Credit – The Lark, Melanie Jade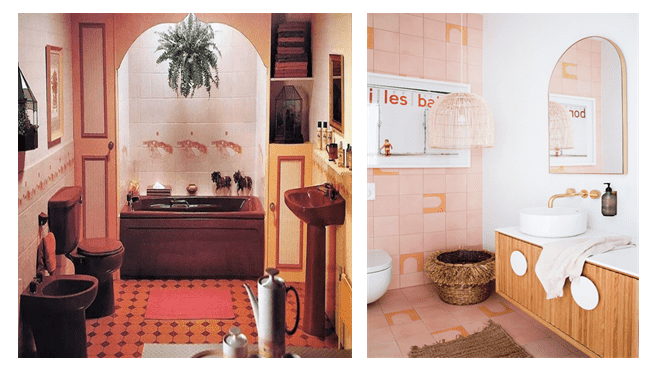 Credit – Love Property, Three Birds Reno
Oh, and let's not forget the accent walls; they are re-appearing too!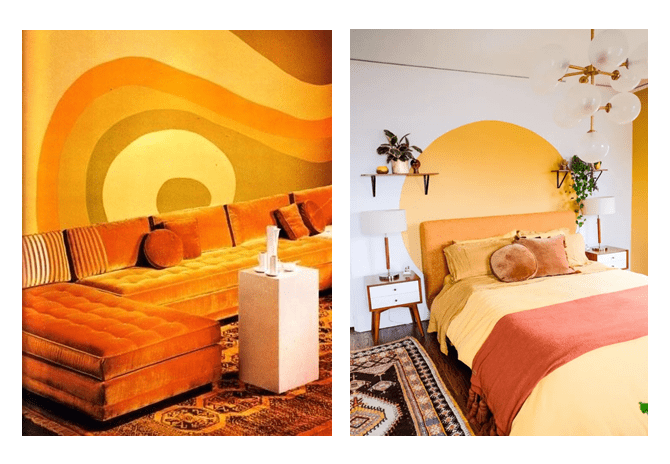 5. Florals & Wallpaper

Amanda Chobanian
The 70s were a time of eye-catching organic shapes and floral patterns. These bold and bright motifs are making their way back into design. Today we see the same organic and floral forms, but at a much larger scale, incorporating patterns in wallpaper, upholstery, and tile!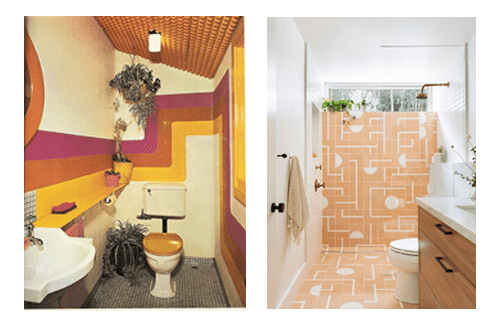 Credit – Flickr, Camille Styles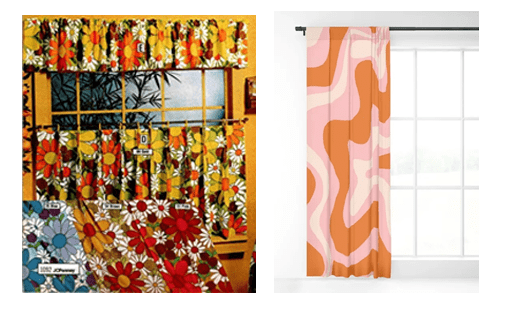 Credit – Click Americana, Click Americana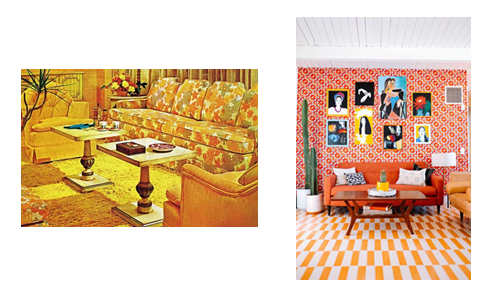 Credit – Apartment Therapy, My Domaine
These bold patterns and colors help bring movement and interest to our modern style.