7 Easy Ways to Organize Your Kitchen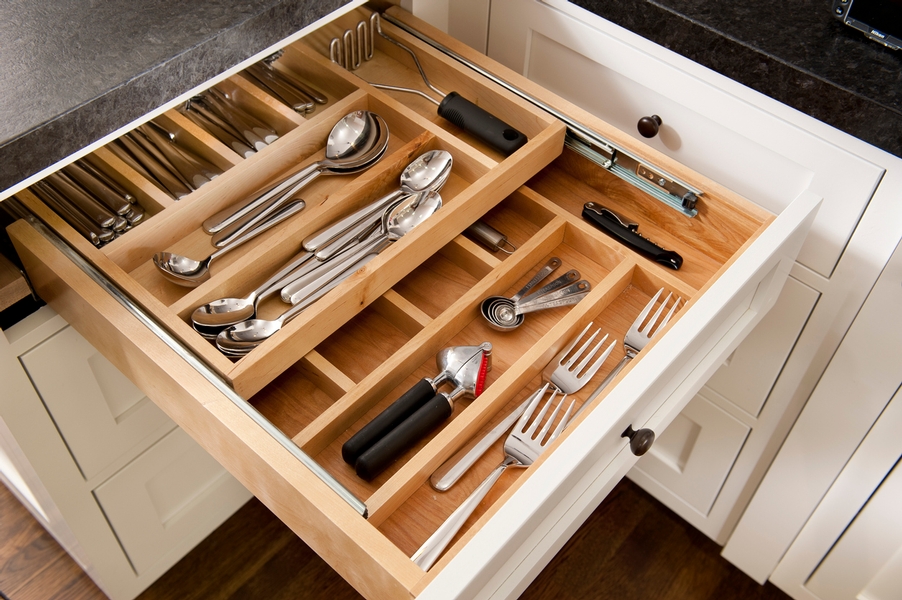 With so many people sequestered in their homes and practicing social distancing, we recognize that you are using your kitchen now more than ever. That's a compelling reason to make sure that your the kitchen looks, operates and feels great. It's easy to overlook kitchen clutter during the hustle and bustle of the average day when everyone in your family seems pulled in different directions. However, if you are spending most of your waking time at home, reorganizing and refreshing your kitchen not only will make you happier, it's also likely to make you more productive.
1. Clean out your fridge.
Take everything out of your refrigerator and freezer, shelf by shelf. Throw out anything expired as well as anything that you haven't used for more than three months. You know what we are talking about – that jar of pickles, jellies, salad dressing, etc.
2. Clean other appliances.
Run your dishwasher with nothing in it. Rinse your waste disposer with white vinegar. Ten minutes later, pour boiling water down the drain. Then run your waste disposer with ice cubes and lemon rinds. Degrease your cooktop. Use the self-cleaning function on your oven. Empty the crumb tray on your toaster. Clean your microwave. Replace the filters on your coffee maker and refrigerator. Run only water through your coffee maker. Clean other countertop appliances used regularly.
3. Declutter drawers and cabinets.
Tackle one drawer and cabinet at a time. Remove everything, and wipe down the drawer and/or shelves. Determine the contents that are used regularly, used rarely or not used at all. For the later, either dispose of those items or donate them to a charity. For rarely used items, e.g., the turkey roaster used only on Thanksgiving or Christmas, consider another location in your home to free up counter or cabinet space. Donate or toss duplicate items – how many peelers and melon ballers do you need? Inventory your knives. Sharpen those that you use frequently, and consider a new home for those that you rarely use.
4. Tackle the pantry.
Pull out each item and ask, "how does this item make me feel?" If the response is not positive, either toss the item in the trash bin or donate it to a food bank. When you restock the pantry, replace items in a logical order. Put all canned goods together. Designate a separate area for baking ingredients, spices, grains, nuts, etc. Reorganizing your pantry by category not only will help you to eat healthier, but it will also save time for meal preparation and cooking. When you empty your pantry, it's a perfect time to clean shelves and containers.
5. Take care of your sinks and faucets.
Wash your sink and pay attention to joints and seals where grime can accumulate.
6. Clean countertops and open shelves.
Take everything off your open shelves and countertops. Do a thorough curation. For each item, ask if this is something that you want to look at every day. If not, donate or relocate.
7. Don't ignore windows, walls and floors.
Vacuum your ceiling, walls and the floor. Wipe down walls and cabinet exteriors with dish soap and warm water. Send your window covers to a launderer or dry cleaner, or if they are washable, throw them in your washing machine.