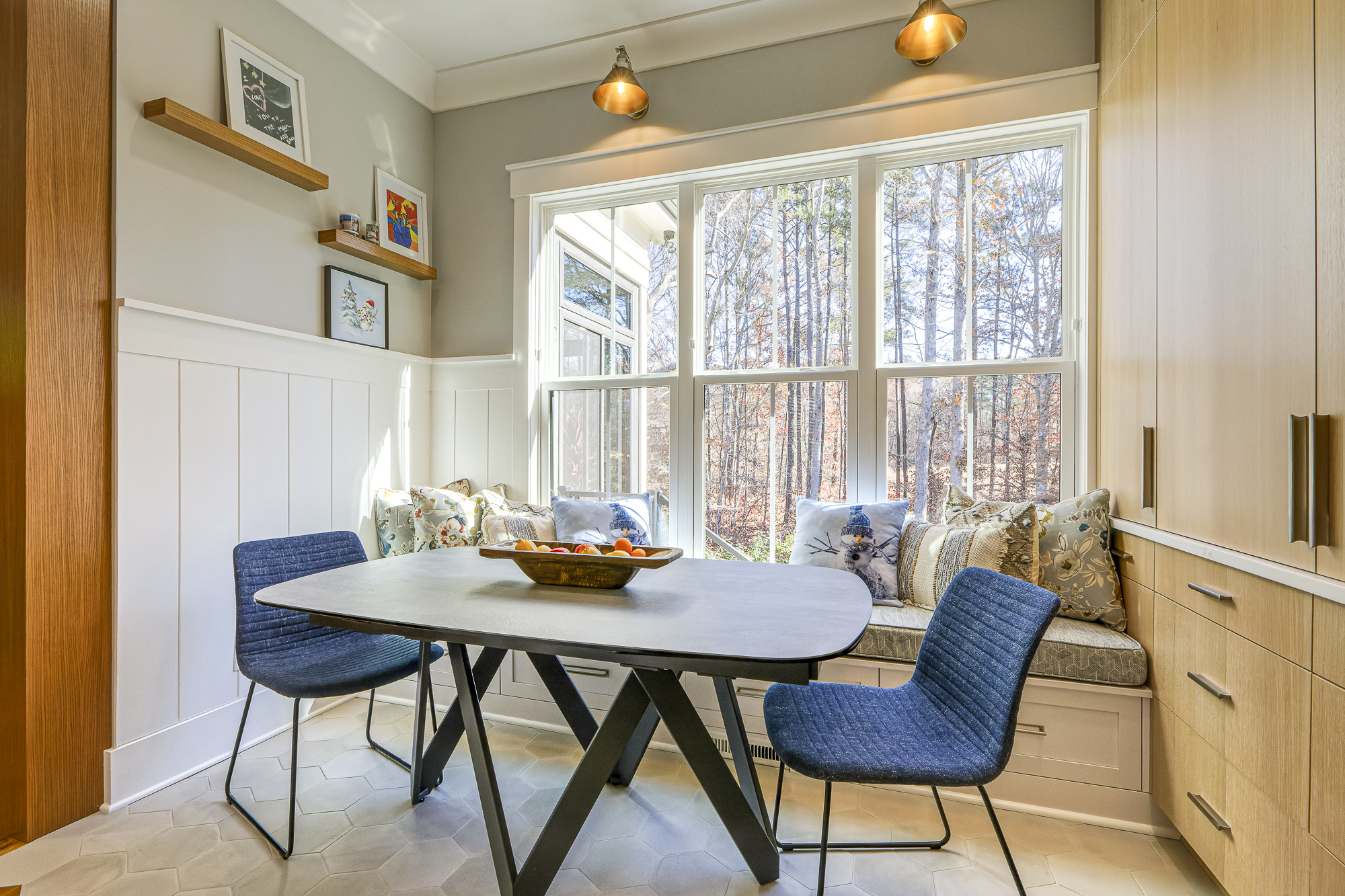 Are you thinking about redecorating or remodeling your home this year? It may be helpful to look at some of the up-and-coming 2023 home design trends for ideas. While minimalism and simplicity have been popular trends in recent years, these trends are now becoming less desirable in terms of home design. The white, sterile appearance that was previously favored has been traded for rich colors and a warm appearance. There are quite a few new design trends that are expected to gain popularity this year and have been becoming more prevalent. Here is a look at some of the home design trends that have been recently gaining traction…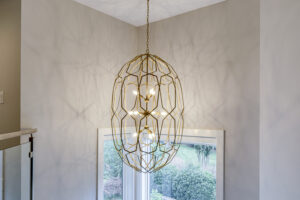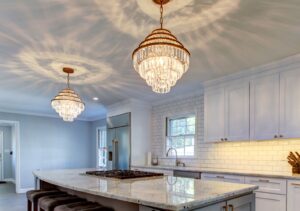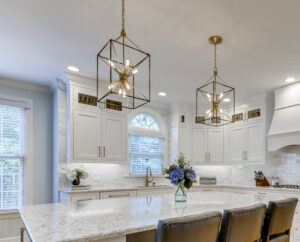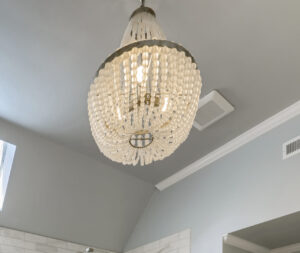 Art Deco
Art deco is a style defined by geometric, curved, linear and simplistic touches, typically using metal, given to functional items and furniture. Art deco had a strong presence during the Roaring 20's. Nearly 100 years later, this trend is being revived in modern ways. To successfully incorporate this style, use of minimal art deco touches is advised. This style can be overwhelming when usedabundantly in a space. Art deco, when used minimally, can blend seamlessly into a modern space.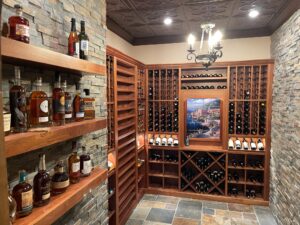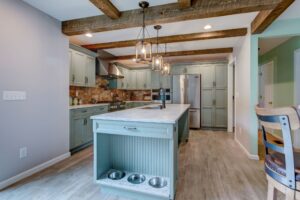 Texture
Utilizing texture in a room can add dimension. Texture may be added by using wood, stone, brick, textured wallpaper, fluting, velvet, wool, and a combination of materials. For example, a stone or brick accent wall could help to add texture to a space.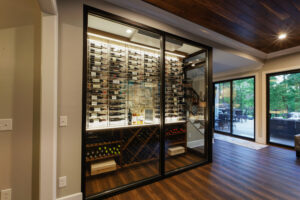 Warm Tones and Colors
Cool whites, grays, and other cool tones are becoming less popular. Contrastingly, warm whites and desert tones are becoming more preferred. These warmer tones can create a sense of comfort. This is a stark contrast to the cooler tones that have dominated home design in the past few years.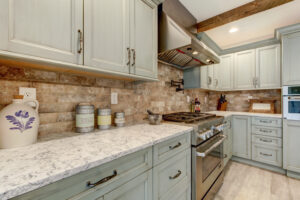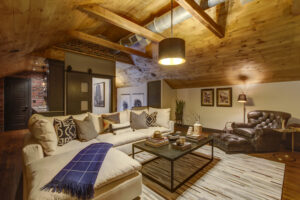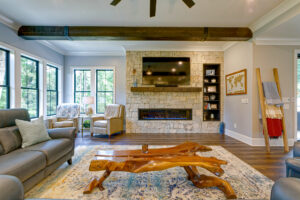 Earthy Tones and Soft Fall Colors
Earthy tones consist of green and brown shades. For example, wooden furniture often has earthy tones. These tones also contribute to a warm feel and replicate the hues of nature. Due to the COVID-19 pandemic, many people are seeking a warm and nature-like feel for their homes. Soft fall colors, such as light shades of pink and green have also been gaining popularity.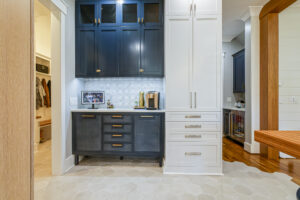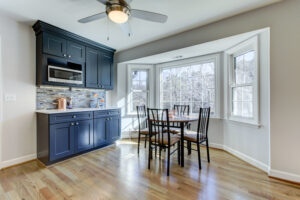 Rich Colors and Jewel Tones
Deep blue, purple, and green are jewel tones and rich colors that are being used to create vibrance and convey a look of sophistication. These colors can also be eye-catching and create interest in a room's appearance. Jewel tones can be used for cabinetry, furniture accent pieces, and accent walls.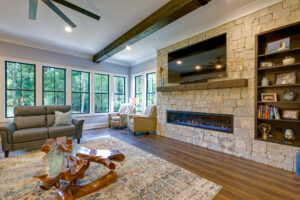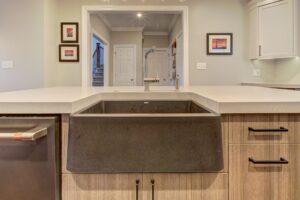 Stone
Stone furniture and features are in demand. Popular stone features and furniture pieces include tables, vanities, tubs, accent walls, sinks, and fireplaces. The use of stone also contributes to a nature-like atmosphere.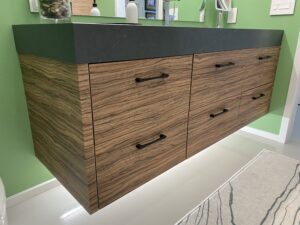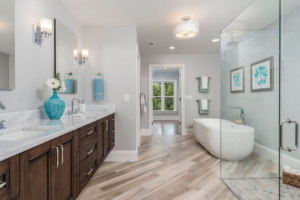 Floating Vanities
Floating vanities are being used more often in bathrooms. Floating vanities can be great options for powder or half baths due to their ability to create a more open appearance in a small space. These vanities are also very clean and modern in appearance.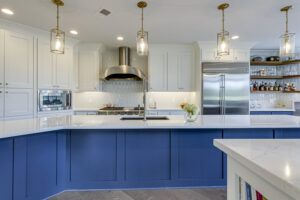 Warm Lighting
Use of LED strip lighting under cabinets, shelving, and ceiling edges offers soft and warm lighting options. Sconces and table lamps offer softer lighting options as well.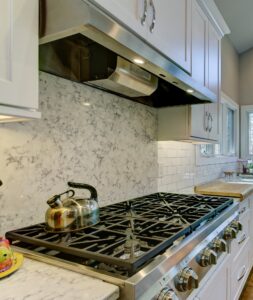 Slab Backsplashes
Slab backsplashes offer elegance and convenience. Slab backsplash requires very little maintenance due to not having grout lines and crevices.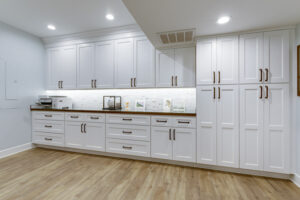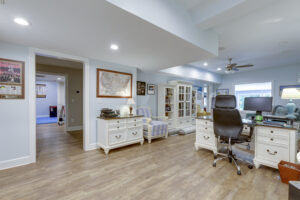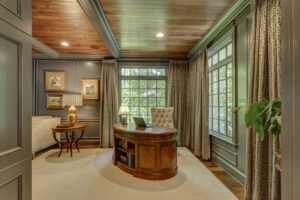 Hobby Rooms and Workspaces
During the COVID-19 pandemic, many work professionals and students had to work and study remotely. This resulted in the need for in-home offices and study spaces. Furthermore, in the duration of the pandemic, many people picked up hobbies at home. Engaging in work, studies, and hobbies from home led to individuals creating designated offices and hobby rooms in their homes. As a result of this, work and hobby spaces have now become more desired and common in homes.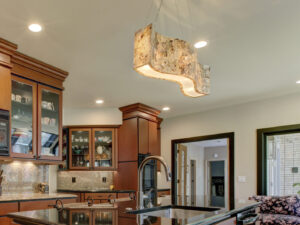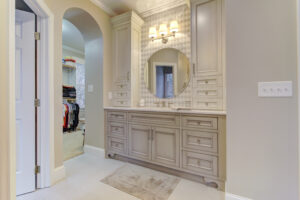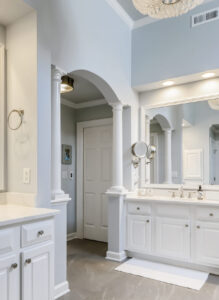 Curves
Use of curved elements intertwines with the art deco trend. Examples of curved elements include arched doorways, windows, curved sofas, and other décor. Conversely, previous trends revolved around clean, straight lines and squares. The use of curves lends to a new desire for spontaneity in home design.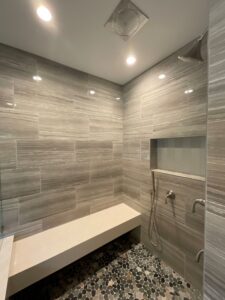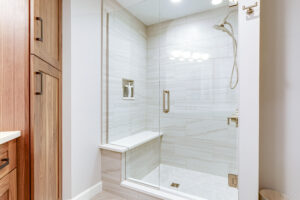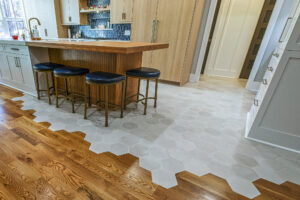 Tile
A trend towards spontaneity can also be seen in how and what type of tile is being used. Checkerboard, mosaic, art deco, terracotta, and illusion tiles are being used in unique ways. Moreover, tile that has the appearance of wood and other materials is becoming more popular. Large format tiles, which are larger tile pieces, are also proving to be more convenient and well-liked. This tile has small grout lines, making cleaning easier. Large format tile can also open small spaces.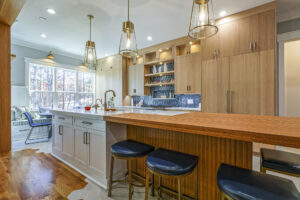 Wood in Kitchens
It is becoming more common to use wood in kitchens. Wood is being incorporated in kitchens by using wooden countertops and cabinetry. It can be sanded and refinished, instead of entirely replaced. Some wooden features and furniture can also be made from reclaimed wood. Wood is a more sanitary material to use as it has antimicrobial compounds. Bacteria requires water to grow, and wood absorbs water. his can help reduce the amount of bacteria hiding on wooden surfaces.
As shown by the current and expected 2023 home design trends, clean, neutral, and minimalistic designs are fading out. But, rich and soft colors, statement-making tile designs, accent walls and furniture, art deco, curves, and texture are in! Eye-catching and bold design touches can give a home character. Many of these current and expected trends echo characteristics of older design trends, which creates a feeling of nostalgia. These newer trends are also likely to create a warmer and more lived-in look. This will provide a sense of comfort within homes. Keep these new, creative trends in mind while redecorating or planning your home remodel!
References:
Lloyd, Lauren. "2023 Decor Trends to Look out for in the New Year." Forbes, Forbes Magazine, 7 Dec. 2022, https://www.forbes.com/home-improvement/design/2023-decor-trends/.
"Designers Predict the Hottest 2023 Home Trends." Www.nar.realtor, 7 Dec. 2022, https://www.nar.realtor/blogs/styled-staged-sold/designers-predict-the-hottest-2023-home-trends.
Wendy Rose Gould December 29, 2022. "These Are the Home Décor and Design Trends That Will Take over in 2023." Martha Stewart, https://www.marthastewart.com/8351706/home-decor-design-trends.
Grindell, Samantha. "The Home-Decor Trends That Will Be Popular in 2023, According to Interior-Design Experts." Insider, Insider, 23 Nov. 2022, https://www.insider.com/popular-home-decor-trends-for-2023-according-to-experts-2022-10#desert-inspired-tones-will-also-be-popular-5.
Chalmers, Ashley. "This Retro Design Style Is 2023's next Biggest Trend." The Spruce, The Spruce, 7 Jan. 2023, https://www.thespruce.com/art-deco-trend-for-2023-7092174.
"Art Deco Movement Overview." The Art Story, https://www.theartstory.org/movement/art-deco/.
Doherty, Ruth. "Tile Trends 2023 – We Asked Designers What's Big, What's New, What's Now?" Homesandgardens.com, Homes & Gardens, 16 Dec. 2022, https://www.homesandgardens.com/news/tile-trends-205656.
Palermo, Andrew. "23 Pros & Cons of Wood Countertops (Are They Worth It?)." Prudent Reviews, 14 Dec. 2022, https://prudentreviews.com/wood-countertops-pros-cons/.
Swantkoski, Alyssa Towns. "4 Interior-Design Trends That'll Disappear in 2023, and 5 You'll See Everywhere." Insider, Insider, 8 Dec. 2022, https://www.insider.com/best-and-worst-interior-design-trends-for-2023#shades-of-gray-are-on-their-way-out-1.
Herring, Sophia. "10 Interior Design Trends We're Quiet Quitting in 2023." Architectural Digest, 21 Dec. 2022, https://www.architecturaldigest.com/story/design-trends-quiet-quitting-in-2023.